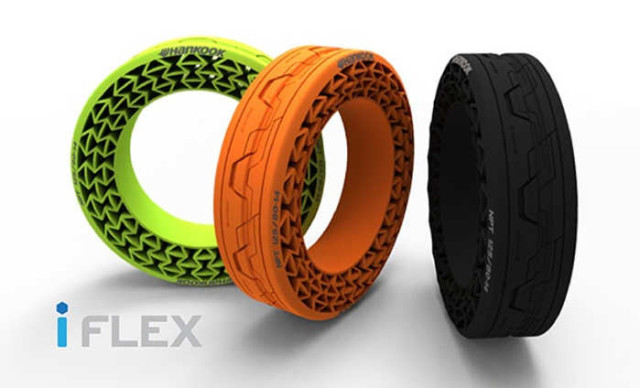 New iFlex airless tires prototypes completed successful tests and can do everything a traditional one can.
Hankook unveiled iFlex tires, its fifth attempt at non-pneumatic tires (NPT), and achieves all the 'practical benefits of conventional air pressure tires while simultaneously enhancing their high speed tire characteristics.'
From the press release:
Hankook Tire announced that it had successfully completed its ride and handling tests for its latest non-pneumatic tire (NPT) Hankook iFlex, which is made using eco-friendly materials.
The iFlex is the latest example of Hankook Tire's continued technology leadership. The company's ability to push the boundaries of driving capabilities is a direct result of its robust foundation in R&D as well as the following world-class technological prowess.
As the name suggests, NPTs do not require air pressure. Hankook Tire has continued researching on the new tire technologies particularly for NPT since 2011. Crucially, the company has been working toward the development of NPTs that achieve all of the practical benefits of conventional air pressure tires while simultaneously enhancing their high speed tire characteristics. The iFlex, which is the fifth NPT concept tire that Hankook Tire has released, is the culmination of that effort.
The company put the iFlex through a serious of rigorous tests designed to push the tires to their limits in five categories: durability, hardness, stability, slalom (zigzag) and speed. In the speed test, the electric car equipped with iFlex tires reached 130km/h. The impressive results in all five categories demonstrated that the NPTs could match conventional tires in terms of performance. At the same time, these results are expected to help the company solidify its position as a global top-tier tire company and, give new momentum to its future-oriented R&D capabilities.
Construction of the iFlex is centered on a new type of uni-material designed to maximize the tire's eco-friendly potential. From a manufacturing standpoint, the material used during product construction significantly enhances the energy efficiency. From a product standpoint, the material allows the iFlex to be recycled with greater ease. Hankook Tire then went one step further, integrating new tire construction techniques to simplify the manufacturing process from eight stages to just four, thus further reducing the company's carbon footprint.
"The Hankook iFlex's ability to deliver the perfect high-speed driving performance is the result of Hankook Tire's longstanding commitment to independently developing progressive, innovative tire technology. Aiming to strengthen our technological leadership in the global tire market, we will continue to develop cutting edge eco-friendly and future-oriented tires" says Mr. Seung-Hwa Suh, Vice Chairman and CEO of Hankook Tire.
source Hankook