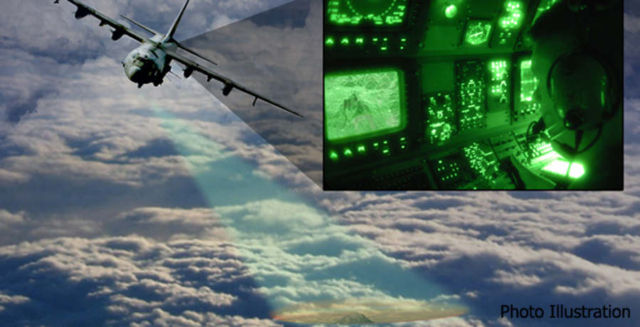 A new 'super radar' can give pilots perfect vision through clouds or smoke.
DARPA's Video Synthetic Aperture Radar (ViSAR) program recently completed flight tests, successfully demonstrating a new sensor that can capture real-time video through clouds.
The ViSAR program, which began in 2013, has been developing an Extremely High Frequency (EHF) targeting sensor to operate through clouds as effectively as current electro-optical and infrared (EO/IR) sensors operate in clear weather.
The program's goal is to develop a cloud-penetrating EHF sensor in a moveable gimbal that could be mounted on a variety of aerial platforms to provide high-resolution, full-motion video for engaging moving ground targets in all weather conditions—cloudy or clear.
Bruce Wallace, program manager in DARPA's Strategic Technology Office, said:
"The recent flight tests of the ViSAR sensor marked a major program milestone toward our goal, proving that we can take uninterrupted live video of targets on the ground even when flying through or above clouds. The EO/IR sensors on board the test aircraft went blank whenever clouds obscured the view, but the synthetic aperture radar tracked ground objects continuously throughout the flight."
The ViSAR program has demonstrated and continues to push technology innovations in four technical areas: Compact flyable EHF-band exciters and receivers; compact flyable EHF-band medium-power amplifier; EHF-band scene simulation; and advanced algorithms for EHF-band operation.
Photo illustration of the ViSAR system
source DARPA