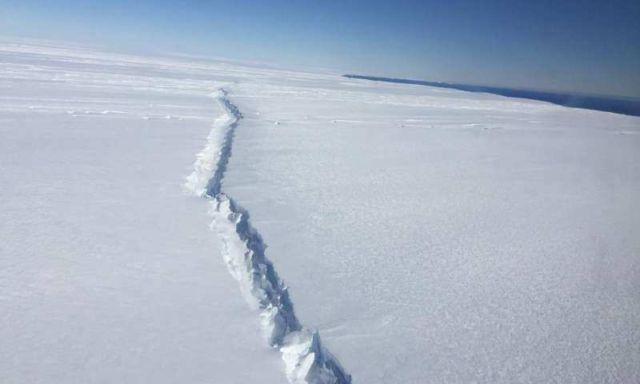 One of the largest icebergs ever recorded takes another step towards calving, in Antarctica.
In the largest jump since January, the rift in the Larsen C Ice Shelf has grown an additional 17 km (11 miles) between May 25 and May 31 2017, indicating that is about to break off.
When it calves, the Larsen C Ice Shelf will lose more than 10% of its area to leave the ice front at its most retreated position ever recorded; this event will fundamentally change the landscape of the Antarctic Peninsula.
The MIDAS Project will continue to monitor the development of the rift and assess its ongoing impact on the ice shelf. Further updates will be available on this blog, and on our Twitter feed.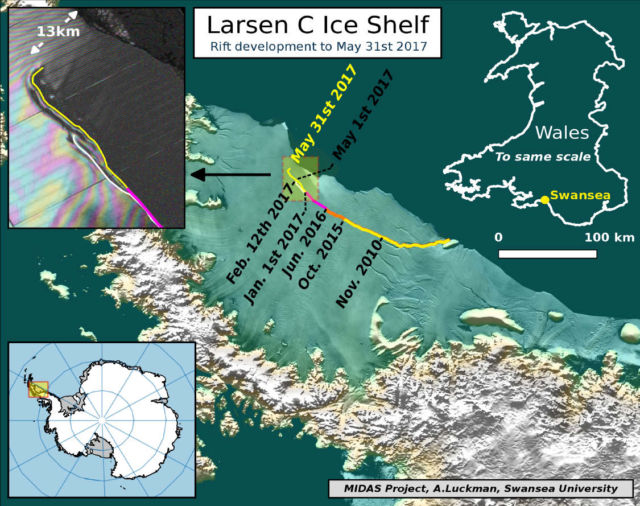 The current location of the rift on Larsen C, as of May 31 2017.    Background image blends BEDMAP2 Elevation (BAS) with MODIS MOA2009 Image mosaic (NSIDC). Other data from SCAR ADD and OSM.
source MIDAS Project