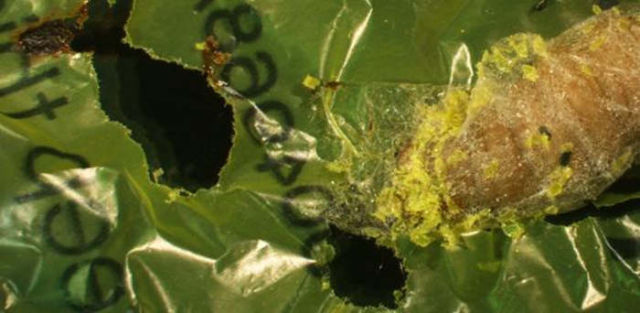 Scientists discovered that wax worms biodegrade polyethylene plastic by eat it.
By determining how the process works, scientists may be able to unveil an industrial way for plastic waste management.
A common insect larva that eats beeswax has been found to break down chemical bonds in the plastic used for packaging and shopping bags at uniquely high speeds. Scientists say the discovery could lead to a biotechnological approach to the polyethylene waste that chokes oceans and landfills.





The wax worm, the larvae of the common insect Galleria mellonella, or greater wax moth, is a scourge of beehives across Europe. In the wild, the worms live as parasites in bee colonies. Wax moths lay their eggs inside hives where the worms hatch and grow on beeswax – hence the name.
Bertocchini, from the Spanish National Research Council (CSIC), collaborated with colleagues Paolo Bombelli and Christopher Howe at the University of Cambridge's Department of Biochemistry to conduct a timed experiment.
He said: "The caterpillar produces something that breaks the chemical bond, perhaps in its salivary glands or a symbiotic bacteria in its gut."
Image credit University of Cambridge
source University of Cambridge