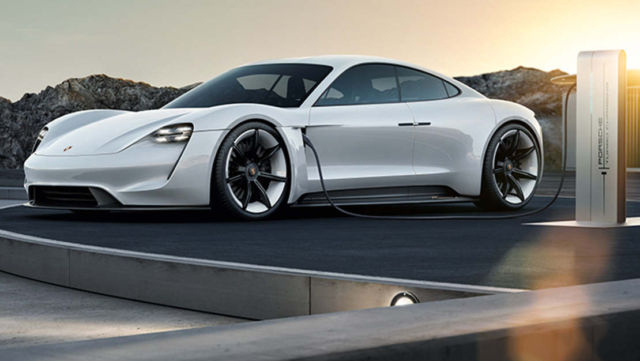 Porsche electric Taycan demand is so strong, that the German company is doubling production.
Originally the German brand planned 20,000 annual units of the Taycan, now CNBC reports that Porsche will double the electric vehicle production, to 40,000 units, due to demand.
Also Porsche Taycan owners will get three years of free charging at Electrify America.
This charging benefit will be included in the price of the Taycan. In addition, Porsche U.S. dealers will install their own fast-charge kiosks. Porsche will also offer home charging technology. Taken together, these three components will make up a comprehensive power network for the Taycan when it launches late this year.
Electrify America highway and metro stations, and many Porsche dealers, will offer DC fast charging at rates up to 350 kilowatts. Using 800 volt technology and the combined charging system (CCS) plug, the Taycan will be able to add more than 60 miles of range in four minutes – the fastest in today's automotive market.
Klaus Zellmer, President and CEO of PCNA, said:
"Every Porsche is a sports car with soul, and the Taycan is soul electrified. Together, Electrify America and our Porsche dealer network will provide a national infrastructure for DC fast charging that frees future Taycan owners from range anxiety. And Porsche home charging technology will turn the customer's garage into the equivalent of a personal gas station."
Taycan will have a 0-62 MPH time of 3.5 seconds and a top speed over 155 MPH, a range of 310 miles and will be able to recharge up to 250 miles in just 20 minutes at a supercharger.
Image credit Porsche
source Porsche (PDF),  autoblog