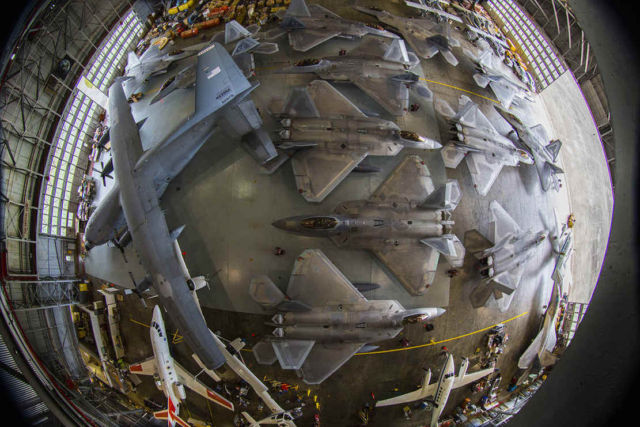 A few F-22 Raptors find shelter from the Tropical Storm Hermine, at a hangar.
As Tropical Storm Hermine charged up the East Coast Sept. 2, 2016, Langley Air Force Base reached out to the Research Services Directorate and NASA Langley Research Center hangar manager Dale Bowser, to see if NASA Langley could store a few F-22 Raptors.
Even though the hangar in Hampton, Virginia, already had a large visitor — a C-130 from the Wallops Flight Facility on Virginia's Eastern Shore — the hangar was able to carefully sandwich in more than a dozen Air Force fighters and offer them protection from the wind. NASA Langley photographer David C. Bowman captured the image using a fish-eye lens and shooting down from the hangar's catwalk some 70 feet above the building's floor.
The hangar provides 85,200 square feet (7,915 square meters) of open space and large door dimensions that allow for entry of big aircraft such as Boeing 757s and other commercial or military transport-class planes.
Image credit: NASA/David C. Bowman
source NASA