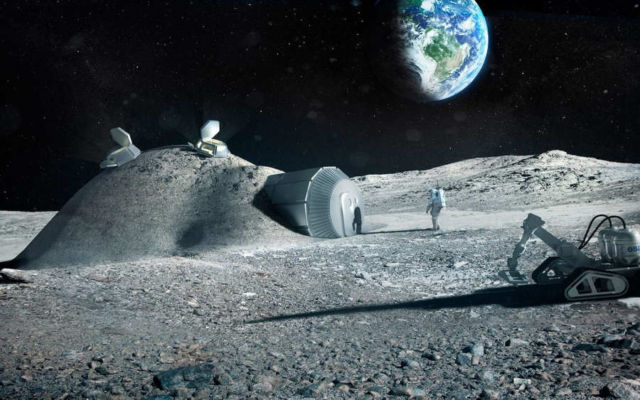 NASA and the Russian Space Agency Roscosmos they signed an agreement, to build the first Moon base together.
This joint statement from NASA and the Russian Space Agency Roscosmos signed in Australia at the 68th International Astronautical Congress in Adelaide, Sept. 27, reflects the common vision for human exploration that they share.
Above, artist impression showing a lunar base made with 3D printing.  Credit ESA

Building a strategic capability for advancing and sustaining human space exploration in the vicinity of the Moon will require the best from NASA, interested international partners, and U.S. industry.
Both agencies, as well as other International Space Station partners, see the gateway as a strategic component of human space exploration architecture that warrants additional study. NASA has already engaged industry partners in gateway concept studies. Roscosmos and other space station partner agencies are preparing to do the same.
Robert Lightfoot, NASA's acting administrator at NASA Headquarters in Washington, said:
"While the deep space gateway is still in concept formulation, NASA is pleased to see growing international interest in moving into cislunar space as the next step for advancing human space exploration. Statements such as this one signed with Roscosmos show the gateway concept as an enabler to the kind of exploration architecture that is affordable and sustainable."
NASA plans to expand human presence into the solar system starting in the vicinity of the Moon using its new deep space exploration transportation systems, the Space Launch System rocket and Orion spacecraft. This plan challenges our current capabilities in human spaceflight and will benefit from engagement by multiple countries and U.S. industry.
source NASA