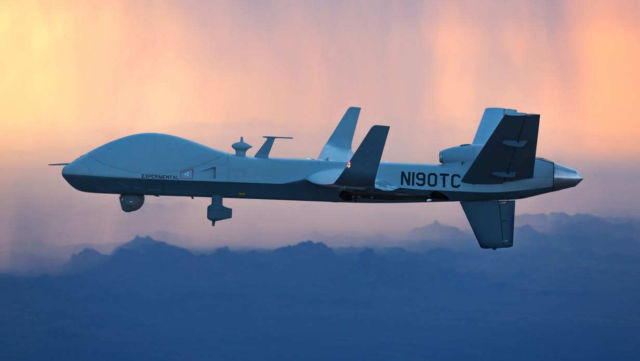 General Atomics Aeronautical Systems, Inc. (GA‑ASI) plans to make the first-ever trans-Atlantic flight of a Medium-altitude, Long-endurance (MALE) Remotely Piloted Aircraft (RPA).
MQ-9B is the latest evolution of GA-ASI's multi-mission Predator B fleet. GA-ASI named its baseline MQ-9B aircraft SkyGuardian, and the maritime surveillance variant SeaGuardian. MQ-9B is a "certifiable" (STANAG 4671-compliant) version of the MQ-9 Predator B product line.
As part of the trans-Atlantic flight, GA-ASI has partnered with Inmarsat, the leading provider of global mobile satellite communications (SATCOM) services.
Linden Blue, CEO, GA-ASI, said:
"GA-ASI is proud to have supported the RAF over the past decade with our MQ-9 Reaper®. In honor of the RAF100 celebration, and to demonstrate a new standard in RPA flight endurance, we will fly SkyGuardian across the Atlantic. Given the distinguished 100 year history of the RAF, we believe that this flight is an appropriate way to celebrate the RAF's position as a leader in innovation."
source General Atomics Aeronautical Systems