Solar Impulse 2 landed in China on Tuesday, on its breathtaking Round-the-World flight, with only solar energy.
Images credit Solar Impulse
According to Solar Impulse 2: The landing was challenging and delayed not only because of strong winds but also because of the intense traffic of Chongqing International Airport. Upon landing, Bertrand Piccard declared that managing to land in such difficult conditions was extremely reassuring in view of the numerous more challenges that the pilots will face in the next flights of the Round-the-World tour.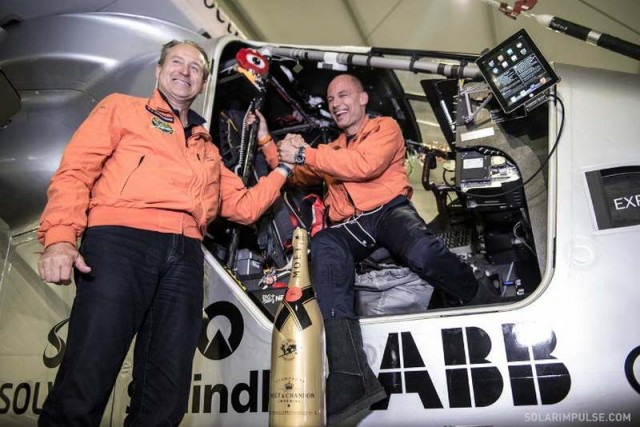 André Borschberg greets pilot Bertrand Piccard after landing in China.
On Sunday March 29th, Solar Impulse took off for its fifth flight from Mandalay (Myanmar) at 21:06 UTC, to Chongqing (China). Bertrand Piccard flew the zero-fuel airplane on 1459 (742NM) for 20 hours and 29 minutes. An amazing opportunity to spread our message in Myanmar and China: Future is Clean. Leading global provider of elevators, escalators and related services, Schindler established China's first industrial joint venture in 1980 and began operating as a Wholly Owned Foreign Enterprise (WOFE) in 2006. Schindler is pleased to accompany Solar Impulse in China, presenting the latest clean and green technology to the public, as well as Chinese developers, architects, urban designers and planners. Si2 landed in China at 17:35 UTC.
source Solar Impulse