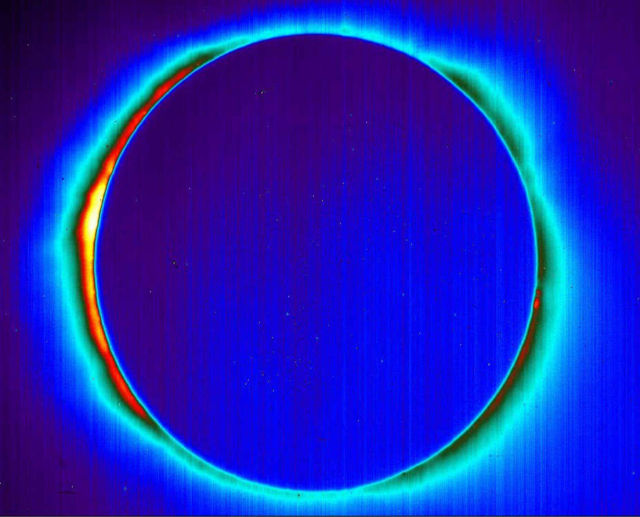 Spectacular Solar Eclipse imagery of the Sun's outer atmosphere during last "Great American Eclipse."
The goal of the eclipse mission, led by NASA and supported by Southern Research, was to gather visible and infrared images of the solar corona and collect extensive data on the temperature of Mercury's surface.
Top, this image of the total solar eclipse was captured by a Southern Research instrument flying on a NASA high-altitude research plane.
Above, the imagery was captured by two NASA high-altitude research aircraft as the total solar eclipse unfolded over the United States.
Southwest Research Institute Senior Research Scientist Amir Caspi, Ph.D., principal investigator of the project, said:
"The visible and infrared data look spectacular. We're already seeing some surprising features, and we are very excited to learn what the detailed analysis will reveal."
Johanna Lewis, program manager of the AIRS/DyNAMITE system, said the mission represented an exciting moment for the Southern Research engineering team:
"Southern Research has been a proud supporter of the NASA WB-57 since 2003, and during that time we have supported hundreds of flights and data collections, but this was one of the most exciting."
source Southern Research