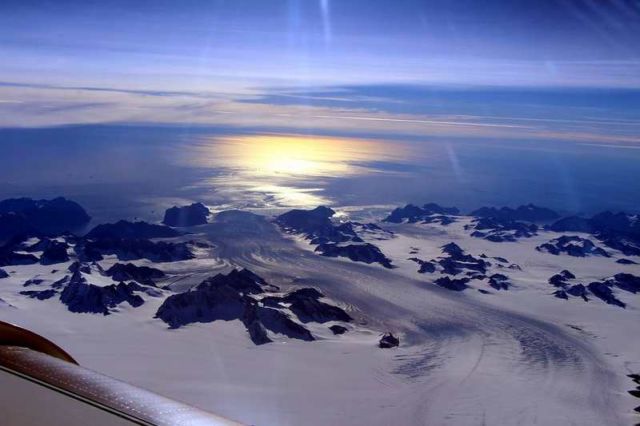 NASA's IceBridge Observes Effects of Summer Melt on Greenland Ice Sheet
NASA's IceBridge, an airborne survey of polar ice, flew over the Helheim/Kangerdlugssuaq region of Greenland on Sept. 11, 2016.
Image Credit: NASA/John Sonntag
This photograph from the flight captures Greenland's Steenstrup Glacier, with the midmorning sun glinting off of the Denmark Strait in the background. IceBridge completed the final flight of the summer campaign to observe the impact of the summer melt season on the ice sheet on Sept. 16.
The IceBridge flights, which began on Aug. 27, are mostly repeats of lines that the team flew in early May, so that scientists can observe changes in ice elevation between the spring and late summer. For this short, end-of-summer campaign, the IceBridge scientists flew aboard an HU-25A Guardian aircraft from NASA's Langley Research Center in Hampton, Virginia.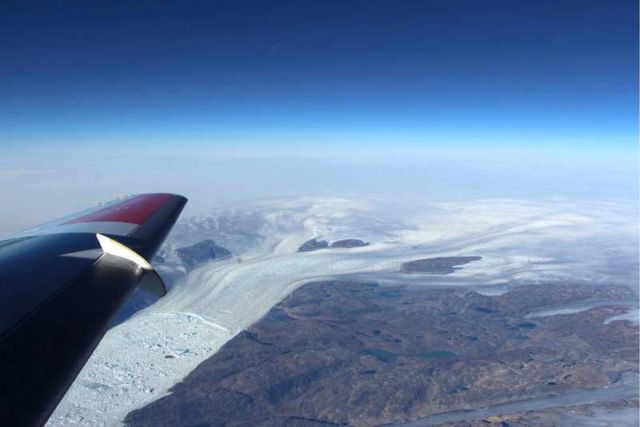 Helheim Glacier, with its characteristic wishbone-shaped channels, as seen from about 20,000 feet in the sky.   Credits: NASA/Operation IceBridge
source NASA