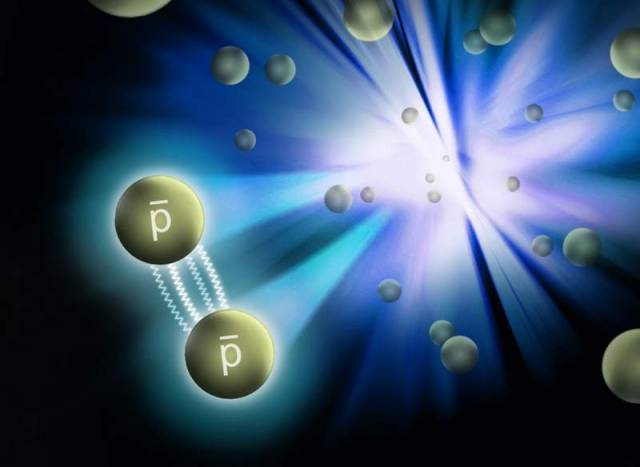 Researchers have found that antimatter may not be as different to matter, giving them new ways to unveil one of the great mysteries of the Universe.
Scientists working at Brookhaven National Laboratory, including physicists at Rice University, made new measurements of the attractive force between antiprotons, unveiling new ways to look at the forces that bind matter and antimatter.
Above image: A new measurement reveals that the force between antiprotons (p with bar above it) is attractive and strong, just like the force that holds protons together.  Credit: Brookhaven National Laboratory
Aihong Tang, a Brookhaven physicist involved in a new analysis of data collected by the Relativistic Heavy Ion Collider's (RHIC) STAR detector, explains:
"The Big Bang – the beginning of the universe – produced matter and antimatter in equal amounts. But that's not the world we see today. Antimatter is extremely rare. It's a huge mystery!
Although this puzzle has been known for decades and little clues have emerged, it remains one of the big challenges of science. Anything we learn about the nature of antimatter can potentially contribute to solving this puzzle."
Rice University physicist Frank Geurts said:
"It could have been that antimatter didn't have the same attractive force as matter and would have helped explain how these differences, during the initial part of the Big Bang, might have resulted in antimatter not having survived in the shape of stars and planets, as matter did."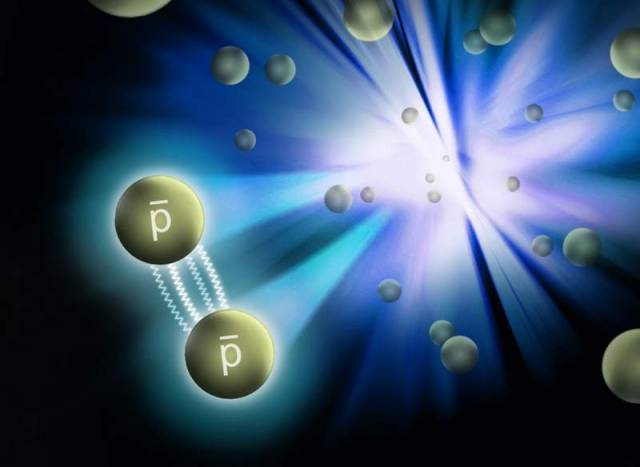 Zhengqiao Zhang, a graduate student from the Shanghai Institute of Applied Physics, with STAR physicist Aihong Tang at the STAR detector of the Relativistic Heavy Ion Collider (RHIC).