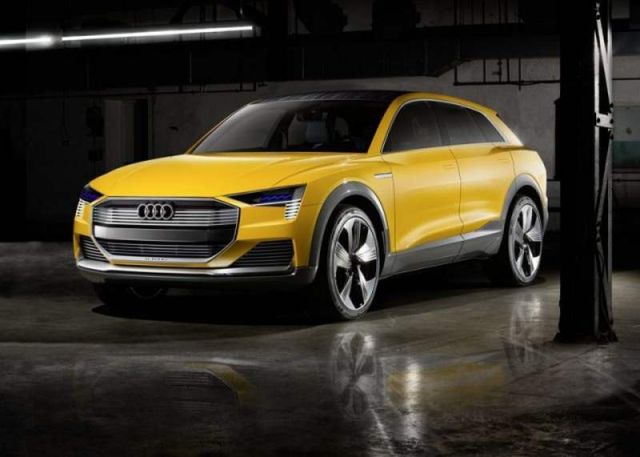 Meet the zero emissions Hydrogen powered, Audi H-Tron quattro concept.
Audi's hydrogen-powered H-tron quattro concept car, has three fuel tanks hidden beneath the passenger and luggage compartments, which only requires four minutes to be refilled.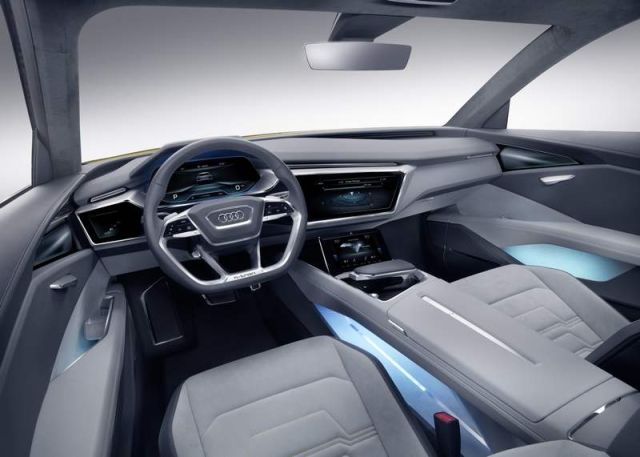 The car is capable of running more than 370 miles on a hydrogen full tank and can reach 0-62 mph in 7 seconds.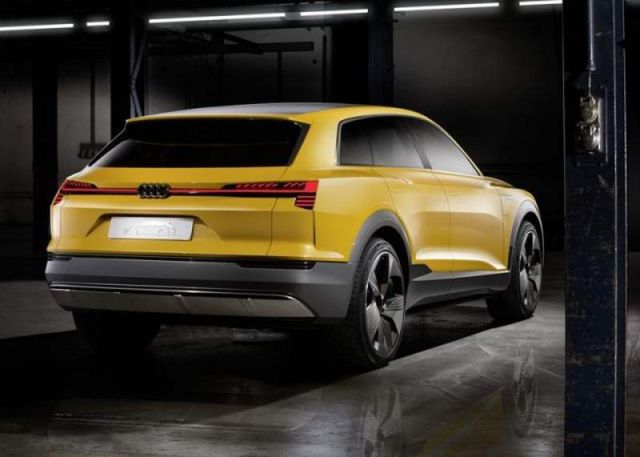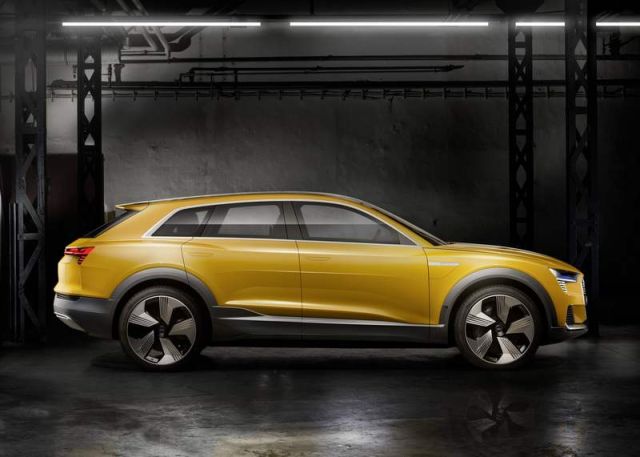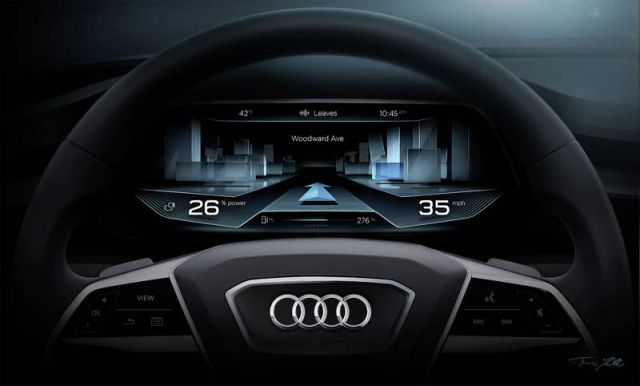 From the press release:
Zero emissions: the Audi h-tron quattro concept
High range, swift refueling, sporty road performance: The Audi h‑tron quattro concept car can boast all these virtues. It combines a highly efficient fuel cell achieving an output of up to 110 kW with a powerful battery that can provide a temporary boost of 100 kW. The car can be fully refueled with hydrogen in around four minutes, and is then ready to drive for up to 600 kilometers (372.8 mi).
In another major step, Audi will go into production with its new technologies for piloted driving and parking in 2017 along with the next generation of the A8 luxury sedan. The technology study already provides a glimpse of things to come.
The Audi h-tron quattro concept is another milestone along the path towards future mobility. Whether with purely battery-powered drive, plug‑in hybrid, combustion engine or fuel cell – Audi has a command of all alternative drive technologies and offers tailor made solutions for its customers worldwide.
The Audi h-tron quattro concept is closely related to the concept car Audi e-tron quattro concept. This latter concept car of a purely electric-drive SUV was first showcased by the brand with the four rings at the 2015 Frankfurt Motor Show. Both are based on the second-generation modular longitudinal platform (MLB evo). This concept is especially flexible. For example, both cars use a virtually identical floor assembly despite their different technology.
The Audi h-tron quattro concept presents the fifth generation of fuel cell technology from Audi and Volkswagen. Lighter materials reduce the weight and improve performance, responsiveness, service life and efficiency. With an efficiency rating in excess of 60 percent, the fuel cell now surpasses any combustion engine. The "stack" comprising 330 individual cells is housed in the forward structure.
The three hydrogen tanks are located beneath the passenger compartment or luggage compartment but do not impinge on the interior. At a pressure of 700 bar, they store enough hydrogen for a range of up to 600 kilometers (372.8 mi).
Every tank is made up of several layers – the inner tank from gas-tight polyamide is wrapped in carbon fiber reinforced polymer (CFRP) and glass fiber reinforced polymer (GFRP). Like a car with combustion engine, refueling takes about four minutes.
Powerful booster: battery supplies up to 100 kW of power
Ideally complementing the fuel cell that develops up to 110 kW, there is a compact lithium-ion battery designed for optimum power output. The battery, weighing less than 60 kilograms (132.3 lb), is located beneath the passenger compartment to optimize the center of gravity. It supplies up to 100 kW of power, ample for a temporary, forceful burst when accelerating. When the car is braked it stores the recovered energy. With 550 Nm (405.7 lb‑ft) of system torque, the Audi h-tron quattro accelerates from 0 to 100 km/h (62.1 mph) in less than seven seconds; its top speed is governed at 200 km/h (124.3 mph).
The power from the fuel cell and the high-voltage battery drives two electric motors – one located on the front axle and with an output of 90 kW, the other on the rear axle and developing 140 kW. This concept makes the technology study an electrified quattro. An intelligent management system controls the interplay between them as appropriate for the situation, placing maximum emphasis on efficiency. A heat pump for the interior air conditioning and a large solar roof that generates up to 320 watts, equivalent to adding up to 1,000 kilometers (621.4 mi) to the range annually, also boost efficiency.
source Audi