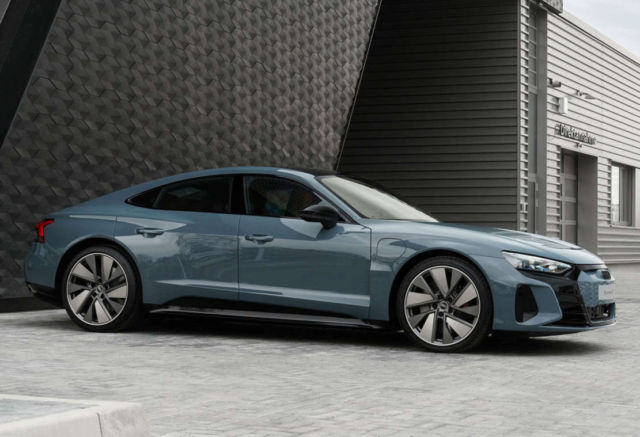 The new, fully electric Audi RS e-tron GT, a Gran Turismo unlike any other, is now available.
The Audi e-tron GT is now on sale at dealerships across Europe. The fully electric Gran Turismo is available in two models, in both cases with all-wheel drive. As the Audi e-tron GT quattro, it has a starting price of 99,800 euros in Germany. The RS e-tron GT is available starting at 138,200 euros.
With the launch of the Audi e-tron GT quattro and the RS e-tron GT, the brand with the four rings is blazing a trail into the emotional, extremely exciting future of electric mobility. The four-door coupe reinterprets the traditional Gran Turismo concept – its design expressive, its technology revolutionary. Two powerful electric motors – one on the front axle, the other on the rear axle – are responsible for the outstanding electric all-wheel drive. In the Audi e-tron GT quattro, they together deliver 350 kW (476 PS) and 630 Nm of torque; in the RS e-tron GT, those figures climb to 440 kW (598 PS) and 830 Nm of torque. With its 84 kWh capacity (net), the lithium-ion battery allows the models to achieve ranges of up to 488 kilometers, while its 800-volt technology ensures that the battery can be recharged extremely quickly. As a result, the Audi e-tron GT quattro and the RS e-tron GT also stand out thanks to their exceptional suitability for day-to-day use and long-distance trips.
The RS e-tron GT is Audi's new electric flagship model, and can sprint from 0 to 100 km/h (62.14 mph) in 3.3 seconds and reach a top speed of 250 km/h (155.14 mph). Its chassis includes features such as adaptive three-chamber air suspension and an electronic differential lock on the rear axle. A coating of tungsten carbide on the brake pads further enhances the performance of the brake system, while the e-tron sport sound creates a fitting acoustic backdrop for this technological masterpiece. All of these features are also available for the Audi e-tron GT quattro.
A number of options are available for both models, including up to 21-inch wheels, all-wheel steering, Matrix LED headlights with Audi laser light, and seat covers that contain a high percentage of recycled materials.
The e-tron GT goes on sale today
source Audi