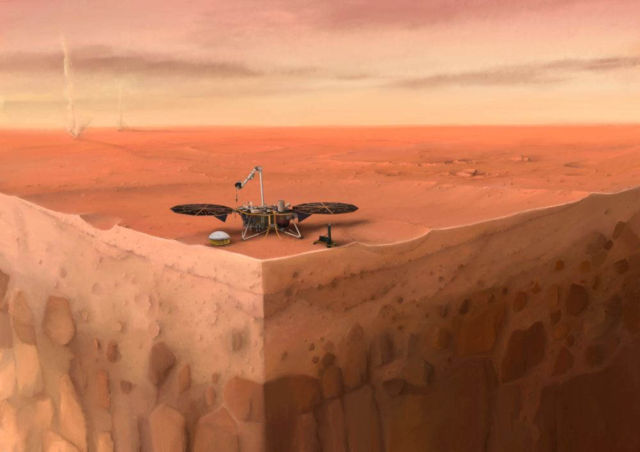 A new understanding of Mars is beginning to emerge, thanks to the first year of NASA's InSight lander mission.
Findings described in a set of six papers published today reveal a planet alive with quakes, dust devils and strange magnetic pulses.
Above: A Cutaway of InSight on Mars: In this artist's concept of NASA's InSight lander on Mars, layers of the planet's subsurface can be seen below and dust devils can be seen in the background. Credits: IPGP/Nicolas Sarter.
Five of the papers were published in Nature. An additional paper in Nature Geoscience details the InSight spacecraft's landing site, a shallow crater nicknamed "Homestead hollow" in a region called Elysium Planitia.
InSight is the first mission dedicated to looking deep beneath the Martian surface. Among its science tools are a seismometer for detecting quakes, sensors for gauging wind and air pressure, a magnetometer, and a heat flow probe designed to take the planet's temperature.
While the team continues to work on getting the probe into the Martian surface as intended, the ultra-sensitive seismometer, called the Seismic Experiment for Interior Structure (SEIS), has enabled scientists to "hear" multiple trembling events from hundreds to thousands of miles away.
Seismic waves are affected by the materials they move through, giving scientists a way to study the composition of the planet's inner structure. Mars can help the team better understand how all rocky planets, including Earth, first formed.
Mars trembles more often — but also more mildly — than expected. SEIS has found more than 450 seismic signals to date, the vast majority of which are probably quakes (as opposed to data noise created by environmental factors, like wind). The largest quake was about magnitude 4.0 in size — not quite large enough to travel down below the crust into the planet's lower mantle and core. Those are "the juiciest parts of the apple" when it comes to studying the planet's inner structure, said Bruce Banerdt, InSight principal investigator at JPL.
source Mars.Nasa