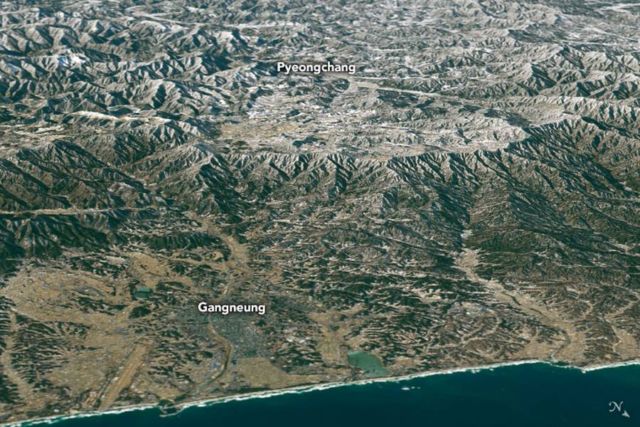 A panoramic view from Landsat 8 of the Winter Olympics new home in South Korea, in the northeastern cities of Pyeongchang and Gangneung.
Since the Winter Olympics were first held in 1924, they only have been hosted twice in Asia, both times in Japan.  Both cities are visible in this natural-color image acquired on Jan. 26, 2018, by the Operational Land Imager (OLI) on Landsat 8. The image shows the Landsat data draped over topographic data from NASA's Shuttle Radar Topography Mission (SRTM).
Pyeongchang is nestled in the Taebaek Mountains, a 22 million year old range that runs 500 kilometers (300 miles) near the Pacific Coast of South and North Korea. All of the skiing and snowboarding events, as well as the opening ceremonies, will be held in this area, which has a base elevation of about 700 meters (2,300 feet). Pyeongchang lies approximately 180 km (110 mile) east of Seoul, the capital of South Korea.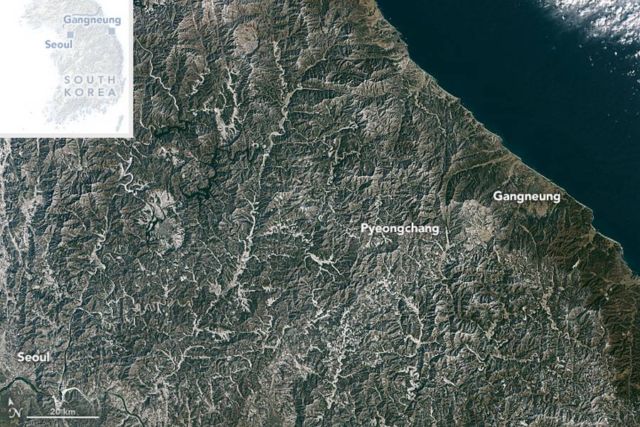 During the Winter Olympics, NASA will be studying how well researchers can measure snow from the ground and space and provide better data for snowstorm predictions. NASA will make these observations as one of 20 agencies from 11 countries in the Republic of Korea as participants in a project led by the Korea Meteorological Administration called the International Collaborative Experiments for PyeongChang 2018 Olympic and Paralympic Winter Games, or ICE-POP.
Image Credit: NASA Earth Observatory image by Joshua Stevens, using Landsat data from the U.S. Geological Survey and topographic data from the Shuttle Radar Topography Mission (SRTM)

Caption: Mike Carlowicz
Editor: Yvette Smith