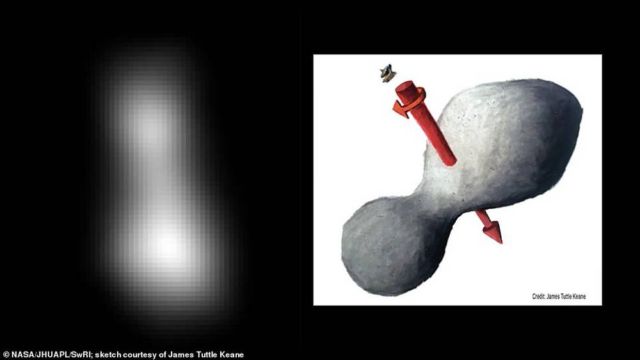 NASA celebrates the new year with a record-breaking flyby of the farthest object humankind has ever visited, at 4 billion miles from Earth.
The New Horizons team shares the first image of Ultima Thule, from the Mission Operations Center at Johns Hopkins Applied Physics Lab.
Above, at left is a composite of two images taken by New Horizons' high-resolution Long-Range Reconnaissance Imager (LORRI), providing the best indication of Ultima Thule's size and shape so far.  NASA/JHUAPL/SwRI; sketch courtesy of James Tuttle Keane
Preliminary measurements of Ultima Thule, a Kuiper Belt object, suggest it is approximately 20 miles long by 10 miles wide (32 kilometers by 16 kilometers).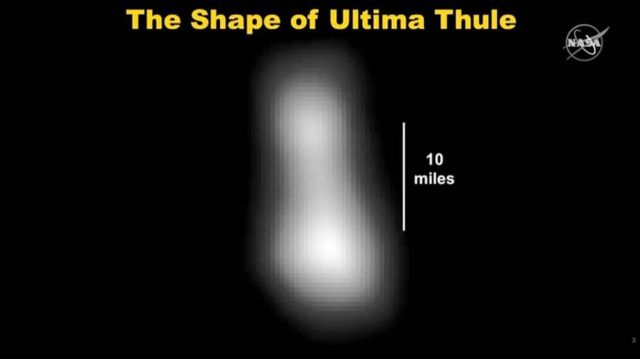 Credit NASA
"Congratulations to NASA's New Horizons team, Johns Hopkins Applied Physics Laboratory and the Southwest Research Institute for making history yet again. In addition to being the first to explore Pluto, today New Horizons flew by the most distant object ever visited by a spacecraft and became the first to directly explore an object that holds remnants from the birth of our solar system," said NASA Administrator Jim Bridenstine. "This is what leadership in space exploration is all about."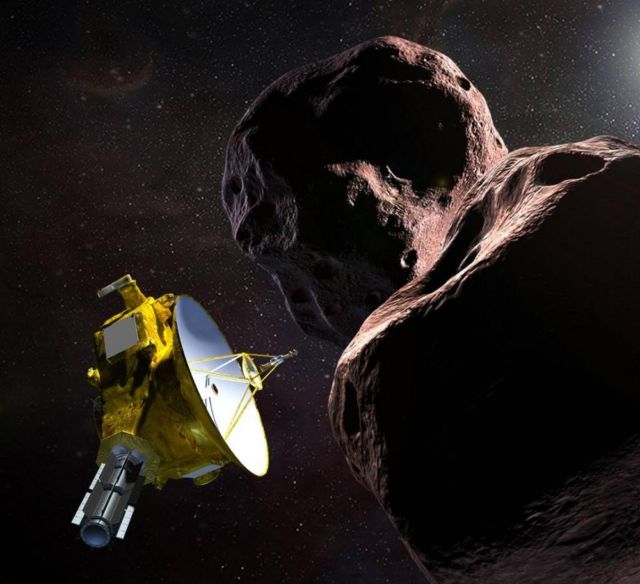 New Horizons spacecraft and Ultima Thule.  Credit HO/NASA/Johns Hopkins University Applied Physics Laboratory/Southwest Research Institute/AFP
"New Horizons performed as planned today, conducting the farthest exploration of any world in history — 4 billion miles from the Sun," said Principal Investigator Alan Stern, of the Southwest Research Institute in Boulder, Colorado. "The data we have look fantastic and we're already learning about Ultima from up close. From here out the data will just get better and better!"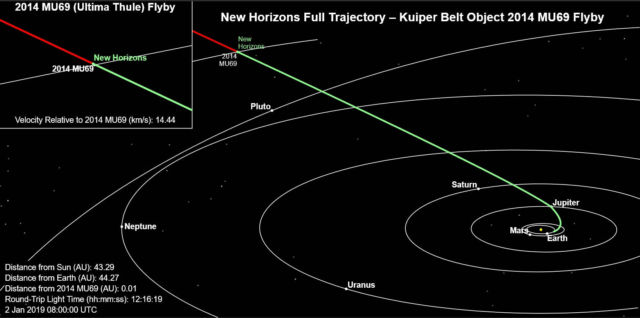 This image shows New Horizons' current position along its full planned trajectory. The green segment of the line shows where New Horizons has traveled since launch; the red indicates the spacecraft's future path. Positions of stars with magnitude 12 or brighter are shown from this perspective, which is slightly above the orbital plane of the planets.  Credit NASA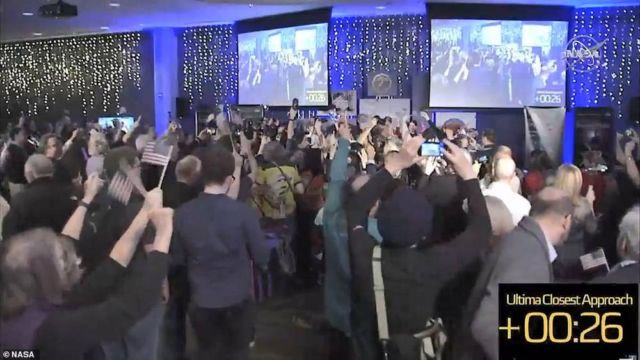 Credit NASA
source NASA