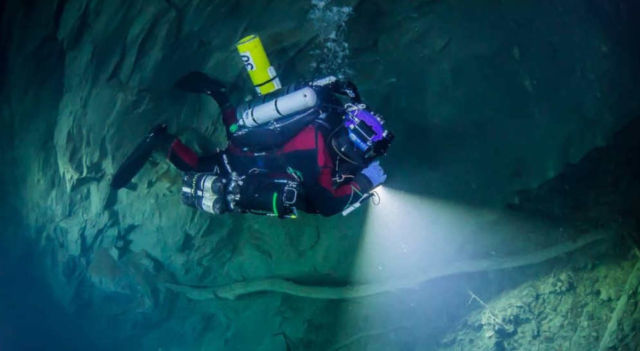 A 1,325 feet deep underwater cave discovered by a team of explorers in the Czech Republic.
On Sept. 27, 2016, in Hranicka Propast, or Hranice Abyss, in the Czech Repablica, a robot probe recorded a depth of 404 meters (1,325 feet), the world's deepest underwater cave. The cord of the robot was 404 metres, so it was unable to continue any deeper.
Image screenshot from video
Video shows Hranicka Propast cave between 220 and 265m depth. photography helps us use the ROV to penetrate the deepest part of the cave. The movie was filmed with two cameras mounted on a helmet at different angles so that I have a bigger range of the image. How we see on depth 230m is a large window in the rock and behind it a large hall. Below 240m the cave is doing extensive and resembles a bell.
Polish diver Krzysztof Starnawski that managed to reach the depth of 404 metres, using a remotely operated vehicle (ROV) told National Geographic:
"From there, the team at the surface navigated it, via fibre-optic cable, down along my new line to 200 metres deep. Then it went down to explore the uncharted territory – to the record-breaking depth of 404 metres."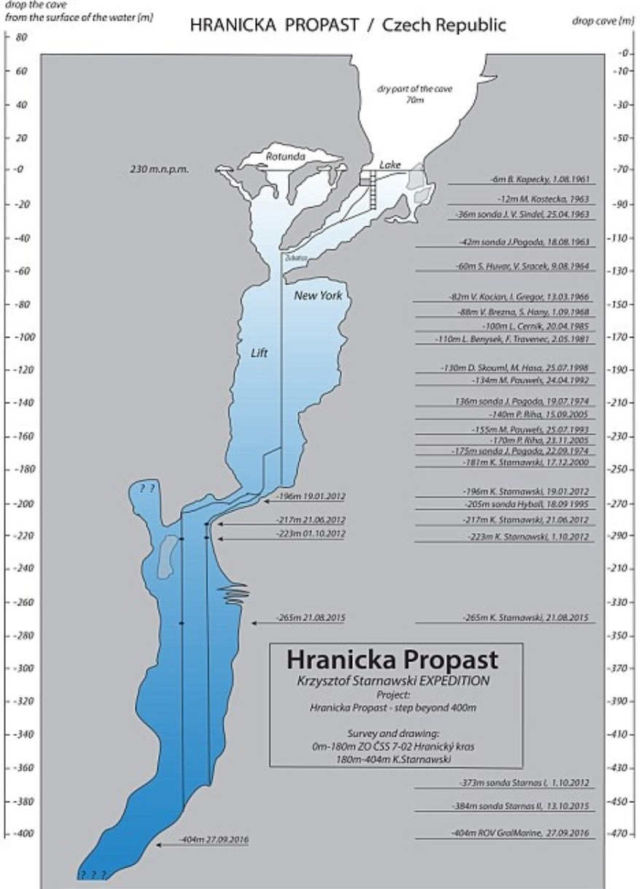 The graphic shows a cross-section of the flooded Hranicka Propast, or Hranice Abyss, in the Czech Repablic
via sciencealert