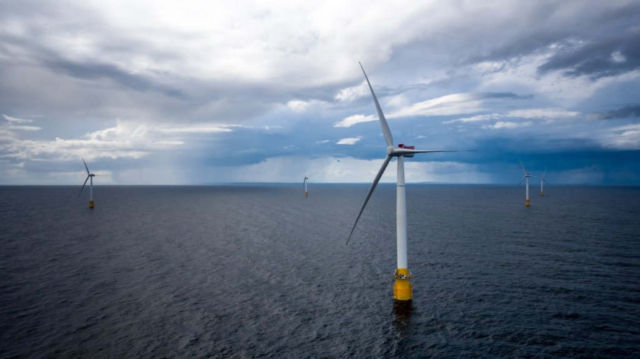 World's first floating wind farm just started production.
Hywind Scotland, world's first floating wind farm, started to deliver electricity to the Scottish grid.
Above, the Hywind Scotland floating wind farm.  Credit Øyvind Gravås / Woldcam – Statoil ASA
The 30MW wind farm, operated by Statoil in partnership with Masdar, that will power approximately 20,000 households, is located 25 kilometers offshore Peterhead in Aberdeenshire, Scotland.
Irene Rummelhoff, executive vice president of the New Energy Solutions business area in Statoil, said:
"Hywind can be used for water depths up to 800 meters, thus opening up areas that so far have been inaccessible for offshore wind. The learning from Hywind Scotland will pave the way for new global market opportunities for floating offshore wind energy. Through their government's support to develop the Hywind Scotland project, the UK and Scotland are now at the forefront of the development of this exciting new technology. Statoil looks forward to exploring the next steps for floating offshore wind."
The 30 MW Hywind Scotland pilot park will demonstrate the feasibility of future commercial floating wind farms that could be more than four times the size. This will further increase the global market potential for offshore wind energy, contributing to realizing Statoil's ambition of profitable growth in renewable energy and other low-carbon solutions.
via BBC
source Statoil