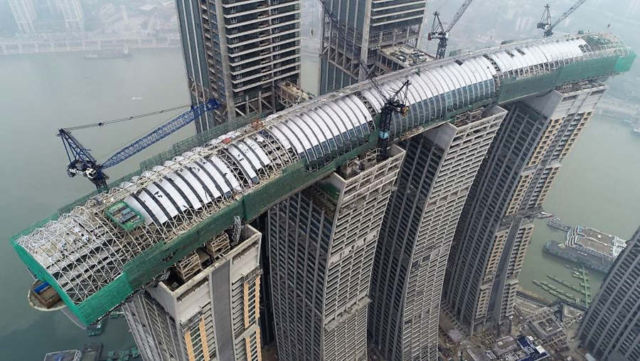 The Crystal, the stunning horizontal skyscraper nears completion in China.
Envisaged as the center of civic activities where locals and visitors from around the world converge in Chongqing, The Crystal, in this aerial shot after structural completion, houses a rich array of amenities, including a viewing gallery, lush gardens, an infinity pool and restaurants.
Marvel in the making – watch how a 1,100-tonne segment of a 300-metre-long platform was hoisted 250-metres high to be fixed between two towers in Raffles City Chongqing.
CapitaLand has successfully topped out the eighth and final skyscraper of Raffles City Chongqing as the Group enters the final lap of preparation works to open the highly anticipated 1.12-million-square-metre (sq m) megastructure in 2H 2019. This achievement follows the structural completion of the development's 250-m-high sky bridge – The Crystal, which enjoys the distinction as the world's highest sky bridge linking six of Raffles City Chongqing's eight skyscrapers.
More at Capitaland