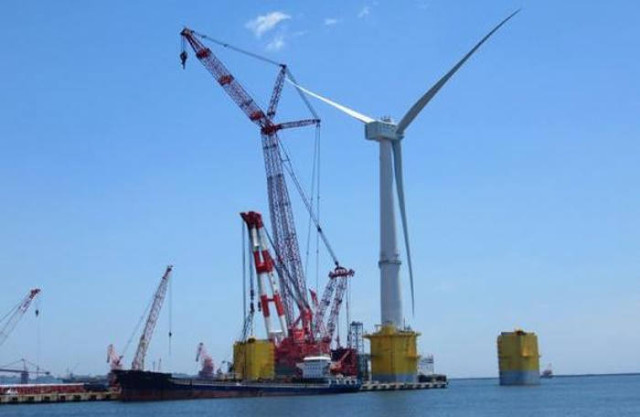 Construction of a skyscraper like, world's largest floating wind turbine, completed in Fukushima, Japan.
Image credit Fukushima Wind Offshore Consortium
The floating wind turbine project, created by some of Japan's best-known companies and university, is a symbol of the rebuilding of Fukushima (devastated by the 2011 earthquake, tsunami and nuclear meltdown).
It will have the largest generating capacity of any offshore turbine.
The Fukushima Wind Offshore Consortium, the builder and operator of the turbine, includes equipment maker Mitsubishi Heavy Industries, technology conglomerate Hitachi and the University of Tokyo.
Fukushima-forward, reports:
'Assembly works of the 7MW oil pressure drive-type wind turbine, which is the world's largest scale one, on the three-column semi-sub floater at Onahama port has been successfully completed and delivery of the floater to testing area is going to start shortly as part of the second term.'
via gizmodo