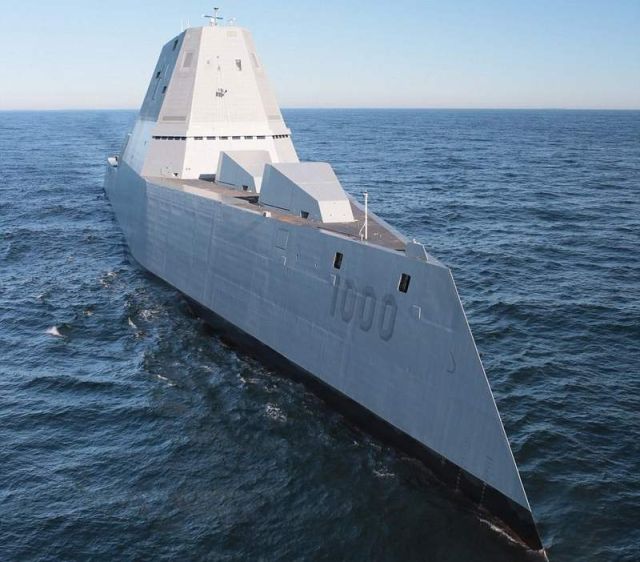 Zumwalt-class ships must go to sea wearing safety reflectors, because the US Navy's giant new destroyer is too stealthy!
The futuristic 600-foot-long, build at an estimated cost of $4.3 billion USS Zumwalt destroyer, launched from Bath Iron Works in Maine on Monday, to the Atlantic on its first voyage.
Images credit: U.S. Navy, courtesy of General Dynamics Bath Iron Works
The 6o0-foot Zumwalt-class shows up as just 40 to 50 foot long on a lobster-man's radar screen, according to The Associated Press.
This is very good during warfare, but dangerous when the ship is navigating in shipping channels or in bad weather.
The ship, which weighs 15,000 tons, has taken four years to built.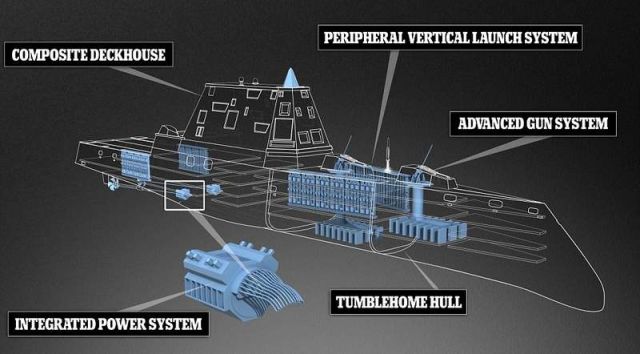 The new boat is equipped with a 78-megawatt powerhouse, prepared to be used be used to power advanced weapons systems, such as a high-speed laser gun, or an electromagnetic railgun.
Zumwalt-class ship:
Type: Stealth guided missile destroyer
Displacement: 14,564 long tons (14,798 t)
[3] Length: 600 ft (180 m)
Beam: 80.7 ft (24.6 m)
Draft: 27.6 ft (8.4 m)
Propulsion:
2 × Rolls-Royce MT30 gas turbines (35.4 MW ea.)[4] driving Curtiss-Wright electric generators
2 × Rolls-Royce RR4500 turbine generators (3.8 MW ea.)[4] 2 × propellers driven by electric motors
Total: 78 MW (105,000 shp)
Speed: In excess of 30 kn (56 km/h; 35 mph)
Complement: 140
Sensors and processing systems: AN/SPY-3 Multi-Function Radar (MFR) (X band active electronically scanned array)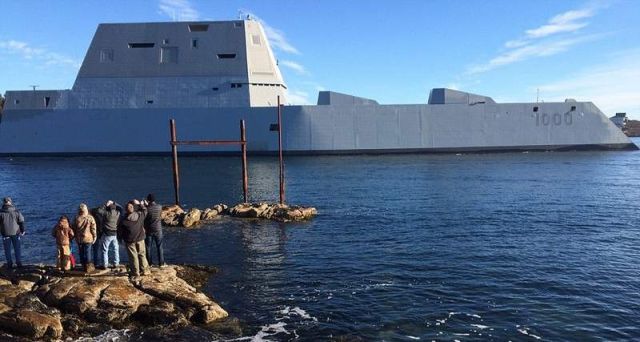 via livescience