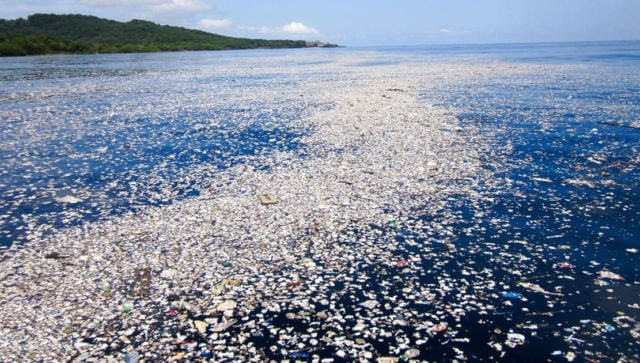 Just 20 companies are responsible for more than half of the global trashed single-use plastic.
The contribution of individual plastic producers to the plastic waste crisis has been exposed for the first time.
According to a new report just 20 companies produce 55% of all single-use plastic. Top financial institutions enabling plastic waste generation were also identified.
Above: The giant mass of plastic waste taking over the Caribbean
The Plastic Waste Makers Index analysis by the Australian foundation Minderoo, reveals the source and true scale of the global plastic waste crisis.
It shows just 20 companies – supported by a small group of financial backers – are responsible for producing over 50 per cent of 'throwaway' single-use plastic that ends up as waste worldwide.
Wasteminster: a downing street disaster, the 2-minute film by greenpeace was created in collaboration with creative collective studio birthplace and produced by park village.
Sam Chetan-Welsh, political campaigner at Greenpeace, said:
"The plastic we carefully wash and sort for recycling is being shipped off to other countries where it overwhelms their waste systems and much of it ends up illegally dumped or burnt, poisoning local people and polluting oceans and rivers. The government could put a stop to this but so far Boris Johnson is only offering half measures. We need a complete ban on all plastic waste exports and legislation to make UK companies reduce the amount of plastic they produce in the first place."
Dr Andrew Forrest AO, Chairman and Co-Founder, Minderoo Foundation, explains:
"The plastification of our oceans and the warming of our planet are amongst the greatest threats humanity and nature have ever confronted. Global efforts will not be enough to reverse this crisis unless government, business and financial leaders act in our children's and grandchildren's interests."
"This means: stop making new plastic and start using recycled plastic waste, it means re-allocate capital from virgin producers to those using recycled materials, and importantly, it means redesign plastic so it does no harm and is compostable, so like every other element, it returns to its original molecules, not nano-plastics. And we must act now. Because while we bicker, the oceans are getting trashed with plastic and the environment is getting destroyed by global warming."
The Plastic Waste Makers Index has been developed with partners including Wood Mackenzie, and experts from the London School of Economics and Stockholm Environment Institute among others.