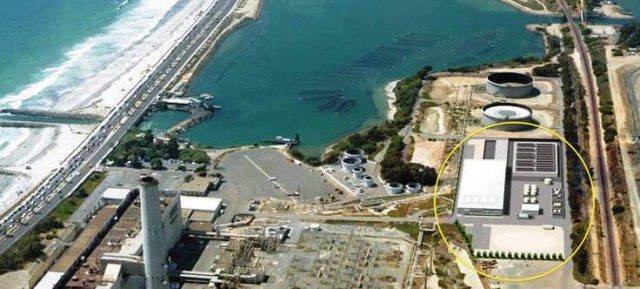 A gigantic $1 billion desalination plant will be built in San Diego County to address drought.
Image credit Carlsbad Desalination Project
A $1 billion desalination plant to supply San Diego County is under construction and will be in operation by the end of the year.
The Carlsbad Desalination Project will provide San Diego County with a locally-controlled, drought-proof supply of 'high-quality water that meets or exceeds all state and federal drinking water standards.'
The Carlsbad Desalination Project consists of a 50 million gallon per day (56,000 acre-feet per year (AFY)) seawater desalination plant and the associated 10-mile water delivery pipeline. The project is located at the Encina Power Station in the City of Carlsbad.
https://www.youtube.com/watch?v=8MQiOY-fxrA
After twelve years of planning and over six years in the state's permitting process, the Carlsbad Desalination Project has received final approvals from every required regulatory and permitting agency in the state, including the California Coastal Commission, State Lands Commission and Regional Water Quality Control Board. A 30-year Water Purchase Agreement is in place between the San Diego County Water Authority (SDCWA) and Poseidon for the entire output of the plant. Construction on the plant and pipeline is under way and the Project will be delivering water to the businesses and residents in San Diego County late 2015.




via New York Times
source carlsbaddesal