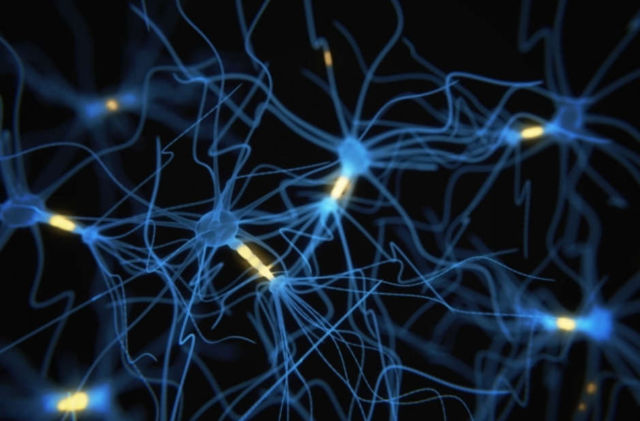 Scientists in the emerging field of "neuromorphic computing" have attempted to design computer chips that work like the human brain.
Instead of carrying out computations based on binary, on/off signaling, like digital chips do today, the elements of a "brain on a chip" would work in an analog fashion, exchanging a gradient of signals, or "weights," much like neurons that activate in various ways depending on the type and number of ions that flow across a synapse.
Above image, researchers have developed a way to label neurons when they become active, essentially providing a snapshot of their activity at a moment in time.  Credit MIT
Packed within the squishy, football-sized organ are somewhere around 100 billion neurons. At any given moment, a single neuron can relay instructions to thousands of other neurons via synapses — the spaces between neurons, across which neurotransmitters are exchanged. There are more than 100 trillion synapses that mediate neuron signaling in the brain, strengthening some connections while pruning others, in a process that enables the brain to recognize patterns, remember facts, and carry out other learning tasks, at lightning speeds.
In this new way, small neuromorphic chips could, like the brain, efficiently process millions of streams of parallel computations that are currently only possible with large banks of supercomputers. But one significant hangup on the way to such portable artificial intelligence has been the neural synapse, which has been particularly tricky to reproduce in hardware.
source MIT