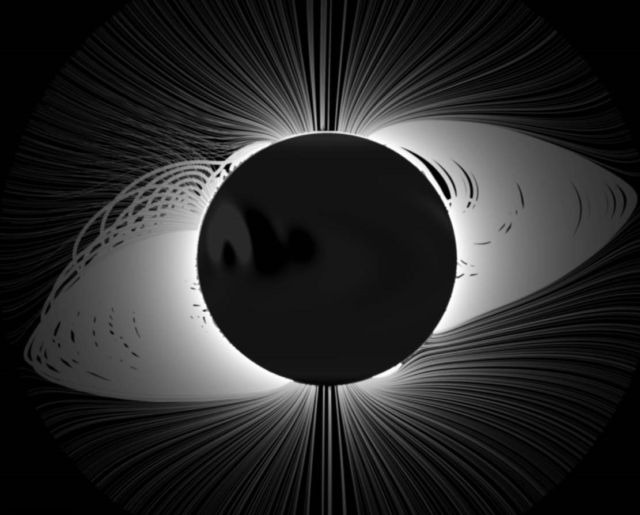 Earth will find itself again on the Moon's shadow on Tuesday, but this time the path of totality spans over the remote South Pacific.
The totality of the solar eclipse will be witnessed only in a narrow zone in Chile and Argentina, before sunset.
Above, this is what the corona will likely resemble during the solar eclipse on July 2nd.  Credit Matthew Cappucci (@MatthewCappucci)

But you can see the total eclipse Live webcast from La Silla Observatory, that celebrates 50 years.
On 2 July, at 21:15 CEST, the European Southern Observatory (ESO) will provide a live webcast of the 2019 La Silla Total Solar Eclipse, should weather conditions be favourable and Internet broadband performs as expected. This is a unique opportunity to be part of the only total solar eclipse visible from an ESO Observatory for the next 212 years.

It will be a "raw" feed and will not include commentary but we will switch between sources regularly, featuring views from up to three small telescopes and also spectators at the Observatory.

We invite entities in our Member States and beyond to consider incorporating the webcast into any public events that they are planning around the eclipse.
What are your plans for 2 July? We're celebrating 50 years of La Silla Observatory #LaSilla50Years and a Total Solar Eclipse #LaSillaTSE. Watch our live webcast of the eclipse at https://t.co/bXJPfeOhji (photo simulation) https://t.co/yZrGz0ands pic.twitter.com/ocnCIlYPr7

— ESO (@ESO) June 24, 2019
This is what the corona will likely resemble during the #eclipse on July 2nd.

Why not a more dynamic corona? We're at solar minimum, meaning — save for connecting field lined between the poles — we have few regions of magnetic flux or any coronal loops. https://t.co/0YAq3GT9QI pic.twitter.com/mM4qVtVR94

— Matthew Cappucci (@MatthewCappucci) June 22, 2019