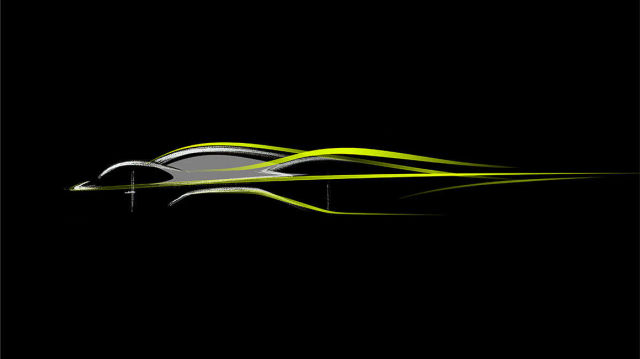 Aston Martin and Red Bull team up to build a £2m hypercar, that will be 'the ultimate of all road cars.'
British luxury brand Aston Martin and Formula One team Red Bull Racing announced a partnership which sees Red Bull Racing's Chief Technical Officer, Adrian Newey and Aston Martin's Chief Creative Officer, Marek Reichman collaborate to produce a ground-breaking Aston Martin hypercar.
Codenamed Project 'AM-RB 001', the new hypercar will represent the ultimate blend of cutting edge F1TM technology with Aston Martin's signature sports car design. The combined talents of Newey, widely noted as the most successful Formula One designer of all time, and Reichman, Aston Martin's design chief since 2005, are set to produce the ultimate hypercar.
Combining the strongest elements of Red Bull Racing, Red Bull Advanced Technologies and Aston Martin, this new Innovation Partnership unites the world's best aerodynamicists, composite experts and manufacturing masters. All the parties offer different elite capabilities and the combination of all of those skills, ensuring that Project 'AM-RB 001' promises to be an exciting prospect for customers and enthusiasts around the world.
Aston Martin CEO Dr Andy Palmer said: "Formula One offers the ultimate global stage to build wider awareness of the Aston Martin brand. However, this partnership will deliver even more than that when the hypercar that Aston Martin and Adrian Newey are in the process of developing hits the road.
"Between Q by Aston Martin Advanced, Red Bull Advanced Technologies and project partner AF Racing AG, we are going to create a car that will excite and stir the imaginations of the car designers of the future and a global audience of sports car enthusiasts.
"These are exciting times for Aston Martin and arriving hot on the heels of our DB11 launch earlier this month, this new partnership underlines that our brand really is racing again."
source Aston Martin