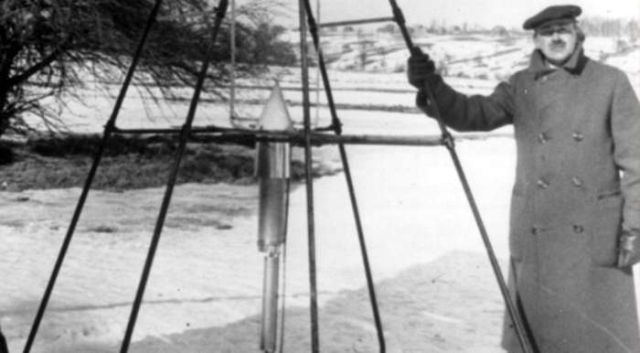 90 years ago, on March 16, 1926, Robert H. Goddard's liquid-fueled rocket launched spaceflight.
Above: Dr. Robert H. Goddard and a liquid oxygen-gasoline rocket in the frame from which it was fired at Auburn, Massachusetts.
Image credit NASA/Clark University Robert H. Goddard Archive
Goddard's rockets reached the altitude of 2.6 km (1.6 miles) and speeds of 885 km/h (550 mph.).
Goddard wrote the next day:
"It looked almost magical as it rose, without any appreciably greater noise or flame. I've been here long enough; I think I'll be going somewhere else, if you don't mind."
He is considered the father of modern rocket science, but he is actually one of three men considered the contributors to modern rocketry: Russian Konstantin Tsiolkovsky (1858-1935) and German Hermann Oberth (1894-1989).
The Chinese used rockets since 13th century, as weapons and fireworks. But Goddard's success at liquid-fueled rocketry, and the capabilities that came with it.
via spacecoastdaily