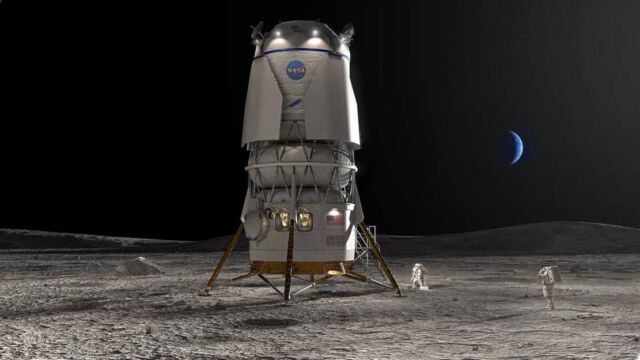 NASA selected Blue Origin to develop a human landing system for Artemis V, which is currently set to launch in September 2029.
Through Artemis, NASA will explore more of the Moon than ever before, uncovering more scientific discoveries, and preparing for future astronaut missions to Mars.
Above: Artist's concept of the Blue Moon lander.  Credits Blue Origin
Blue Origin will design, develop, test, and verify its Blue Moon lander to meet NASA's human landing system requirements for recurring astronaut expeditions to the lunar surface.
In addition to design and development work, the contract includes one uncrewed demonstration mission to the lunar surface before a crewed demo on the Artemis V mission in 2029.
NASA Administrator Bill Nelson, said:
"Today we are excited to announce Blue Origin will build a human landing system as NASA's second provider to deliver Artemis astronauts to the lunar surface. We are in a golden age of human spaceflight, which is made possible by NASA's commercial and international partnerships. Together, we are making an investment in the infrastructure that will pave the way to land the first astronauts on Mars."
The total award value of the firm-fixed-price contract is $3.4 billion.
source NASA