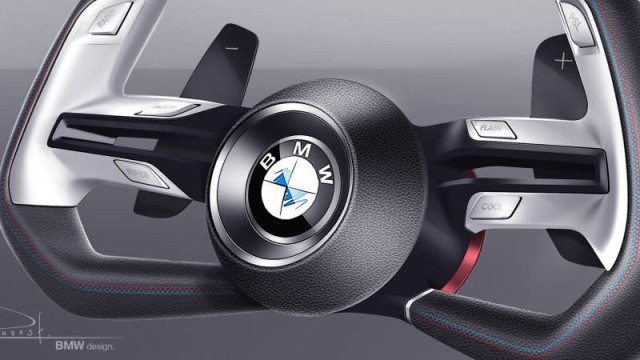 BMW announced that it will unveil two new concept cars during Monterey Car Week next month.
Image credit BMW
BMW released this image with the press release, showing a futuristic, airplane like steering wheel, with some of the buttons labeled "Flash," "Cool," "Radio," "Wiper."
Press release:
BMW to Unveil Two World Premier Concept Cars During Monterey Car Week.
Media Preview at The BMW Annual Press Conference on Thursday Evening.
Woodcliff Lake, N.J. – July 17, 2015… BMW is pleased to invite credentialed media to the 'BMW at the 2015 Monterey Car Week' preview press conference on August 13th at 6:00pm.
In celebrating of its 40th anniversary, BMW of North America will unveil two world premier concept cars during its annual press conference at the BMW Villa in Pebble Beach. Public showings later that weekend are planned for The Quail, A Motorsport Gathering, Legends of the Autobahn Concours d'Elegance, Rolex Monterey Motorsport Reunion and Pebble Beach Concours d'Elegance.
Press Conference speakers will include Ludwig Willisch, President & CEO – BMW of North America LLC., Karim Habib, Director of BMW Design and Dirk Haecker, VP Research and Development – BMW M GmbH.
For More Information as well as images and video:
http://www.bmwusanews.com
Twitter.com/BMWUSANews
BMW Group In America
BMW of North America, LLC has been present in the United States since 1975. Rolls-Royce Motor Cars NA, LLC began distributing vehicles in 2003. The BMW Group in the United States has grown to include marketing, sales, and financial service organizations for the BMW brand of motor vehicles, including motorcycles, the MINI brand, and Rolls-Royce Motor Cars; Designworks, a strategic design consultancy based in California; a technology office in Silicon Valley and various other operations throughout the country. BMW Manufacturing Co., LLC in South Carolina is part of BMW Group's global manufacturing network and is the exclusive manufacturing plant for all X5 and X3 Sports Activity Vehicles and X6 and X4 Sports Activity Coupes. The BMW Group sales organization is represented in the U.S. through networks of 339 BMW passenger car and BMW Sports Activity Vehicle centers, 148 BMW motorcycle retailers, 123 MINI passenger car dealers, and 36 Rolls-Royce Motor Car dealers. BMW (US) Holding Corp., the BMW Group's sales headquarters for North America, is located in Woodcliff Lake, New Jersey.
Information about BMW Group products is available to consumers via the Internet at:
www.bmwgroupna.com.
source BMW