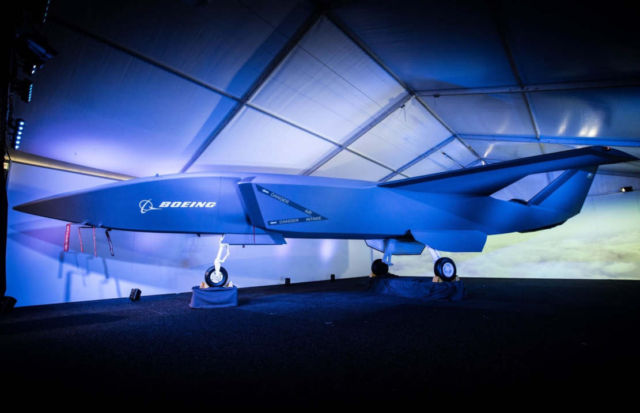 A model of the unmanned Boeing Airpower Teaming System was unveiled at the Australian International Airshow Feb. 27.
Boeing Airpower Teaming System unmanned aircraft developed in Australia, designed for in-country customization, will provide multi-mission support for air control missions.
The aircraft will complement and extend airborne missions through smart teaming with existing military aircraft.
Kristin Robertson, vice president and general manager of Boeing Autonomous Systems, said:
"The Boeing Airpower Teaming System will provide a disruptive advantage for allied forces' manned/unmanned missions. With its ability to reconfigure quickly and perform different types of missions in tandem with other aircraft, our newest addition to Boeing's portfolio will truly be a force multiplier as it protects and projects air power."
The Boeing Airpower Teaming System will:
– Provide fighter-like performance, measuring 38 feet long (11.7 metres) and able to fly more than 2,000 nautical miles
– Integrate sensor packages onboard to support intelligence, surveillance and reconnaissance missions and electronic warfare
– Use artificial intelligence to fly independently or in support of manned aircraft while maintaining safe distance between other aircraft.
Image credit Boeing
source Reuters