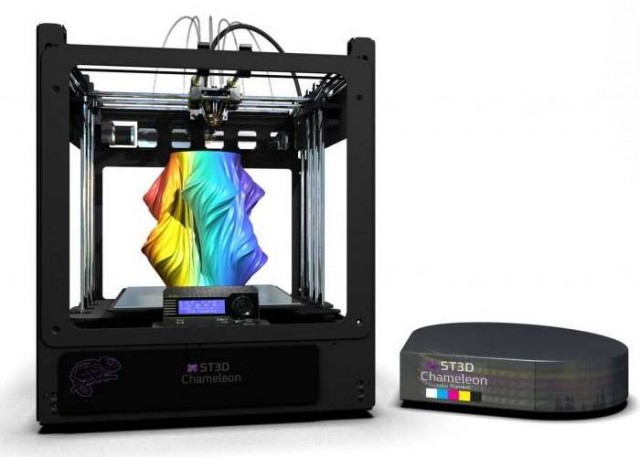 STD3 Chameleon is a full color desktop 3D printer, unveiled by Something3D.
STD3 Chameleon by Something3D, an easey way to bring your 3D models from the screen to life with a  printer.
We build durable high quality and strong printers.
Large printing size (300 x 300 x 300 mm). Up to four extruder heads.
Flexibility to choose add-ons to extend the versatility of filaments you can use for your creation.
Great for use at home, at the office and in any educational and creative environment.
We believe that 3D printers are for anyone who wants to make/create.
Purple: the color of individualism and unconventionality.
Dimensions | W 520 x H 520 x D 600 mm
Weight | ± 20 Kg
Max Printing Size | 300 x 300 x 340 mm
Build Platform | Heated bed surface
Connectivity | USB 2.0/3.0 to Mac/PC and SD Card Slot
Technology | Fused Filament Fabrication (FFF)
Heads | Full Color one head
Nozzle diameter | 0.4mm
Resolution | 50 micron layer thickness and 0.5 mm wall thickness

via 3DP Ind
source Something3D