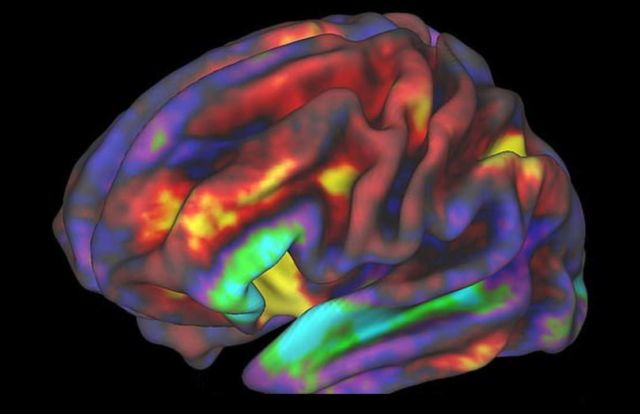 Children who spend seven hours or more on smartphones are risking declining memory, lower IQs and changing the structure of their brains.
The National Institutes of Health announced that enrollment for the Adolescent Brain Cognitive Development (ABCD) Study is now complete and, in early 2019, scientists will have access to baseline data from all ABCD Study participants.
According to the £236 million project, after monitoring 11,000 nine to ten-year-olds children that used screens for 7 hours, showed signs of brain cortex thinning.
Above, fMRI image of preteen brain while child performs a working memory task, released by ABCD researchers. The regions in yellow and red are most active.  Credit Richard Watts, PhD, University of Vermont and Fair Neuroimaging Lab, Oregon Health and Science University
There are 11,874 youth, ages 9-10, participating in the study, including 2,100 young people who are twins or triplets. All will be followed through young adulthood.
The ABCD Study is a landmark study on brain development and child health that will increase understanding of environmental, social, genetic, and other biological factors that affect brain and cognitive development and can enhance or disrupt a young person's life trajectory. Coordinated by the National Institute on Drug Abuse and the National Institute on Alcohol Abuse and Alcoholism, the study is supported by eight other NIH institutes and offices, as well as the Centers for Disease Control and Prevention and other federal partners.
The study—being conducted at 21 research sites around the country—will use advanced neuroimaging to observe brain development in children throughout adolescence, while tracking social, behavioral, physical and environmental factors that may affect brain development and other health outcomes.
source National Institutes of Health