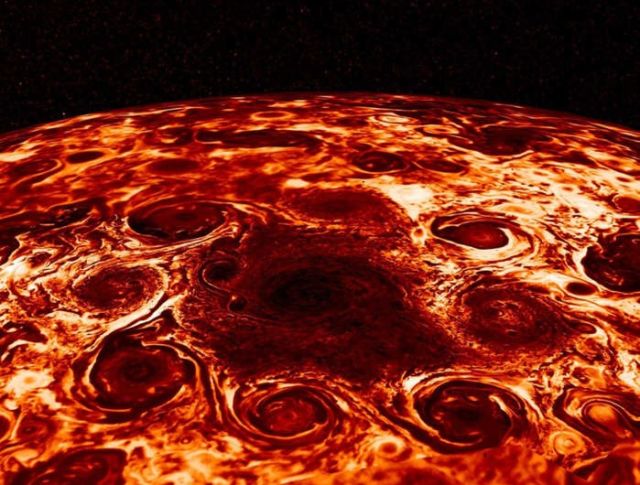 This impressive composite image, shows the central cyclone at Jupiter's North Pole and the eight cyclones that encircle it. 

Data collected by NASA's Juno mission to Jupiter indicate that the atmospheric winds of the gas-giant planet run deep into its atmosphere and last longer than similar atmospheric processes found here on Earth. The findings will improve understanding of Jupiter's interior structure, core mass and, eventually, its origin.
Image Credits: NASA/JPL-Caltech/SwRI/ASI/INAF/JIRAM
Other Juno science results released today include that the massive cyclones that surround Jupiter's north and south poles are enduring atmospheric features and unlike anything else encountered in our solar system. The findings are part of a four-article collection on Juno science results being published in the March 8 edition of the journal Nature.
"These astonishing science results are yet another example of Jupiter's curve balls, and a testimony to the value of exploring the unknown from a new perspective with next-generation instruments. Juno's unique orbit and evolutionary high-precision radio science and infrared technologies enabled these paradigm-shifting discoveries," said Scott Bolton, principal investigator of Juno from the Southwest Research Institute, San Antonio. "Juno is only about one third the way through its primary mission, and already we are seeing the beginnings of a new Jupiter."
For hundreds of years, this gaseous giant planet appeared shrouded in colorful bands of clouds extending from dusk to dawn, referred to as zones and belts.
The bands were thought to be an expression of Jovian weather, related to winds blowing eastward and westward at different speeds.
source NASA