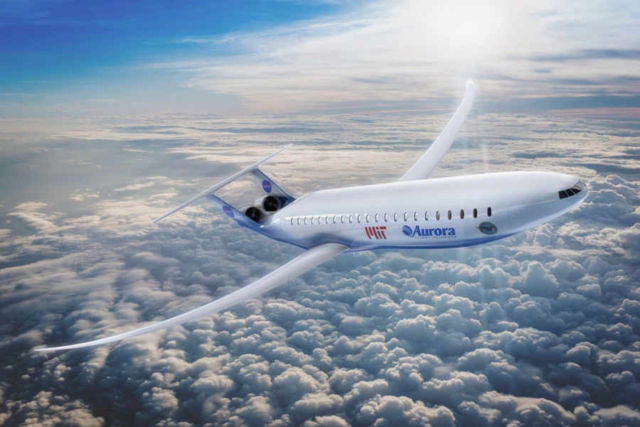 Aurora Flight Sciences' D8 commercial airliner, has been awarded a six-month, $2.9 million NASA contract to continue development.
Aurora Flight Sciences will continue the development of its D8 aircraft, a subsonic commercial airliner that is a candidate for NASA's X-plane program.
Aurora Flight Sciences in Manassas will continue design work on its D8 aircraft under a new NASA contract. (Courtesy PRNewsFoto/Aurora Flight Sciences)
According to the company, the D8 concept would be more than 50 percent more fuel-efficient than current commercial aircraft.
The D8 is designed to fly at Mach 0.764 (582 mph, 936 km/h) with 180 passengers over a range of 3,000 nm (3,500 mi, 5,500 km).
The $2.9M contract is provided to begin the process of defining X-Plane requirements and associated research needed to enable the D8 aircraft.
The D8 is a commercial aircraft concept that enables substantial efficiency improvements within the next decade; by entry into service the D8 will be over 50% more fuel-efficient than current best-in-class aircraft while simultaneously reducing airline operating costs.
The D8 evolved from Aurora's work on the NASA N+3 Program. In 2009, a combined Aurora, MIT and Pratt & Whitney team was awarded a contract to study technologies and designs for transport-class aircraft that could enter service during the 2030s.
Aurora's design – named the D8 after its chief designer Mark Drela – reconfigures the classic tube-and-wing aircraft in order to make extensive use of Boundary Layer Ingestion (BLI), high bypass ratio engines, and composite materials. The D8 benefits are enabled by modern composite manufacturing technologies and a propulsion system that leverages BLI.
In addition, the design offers significant noise and emissions reductions. "Best of all, though, is the twin-aisle design and quiet interior that we are sure passengers will love" said Aurora CEO John
Langford.
Press release in PDF
source Aurora Flight Sciences