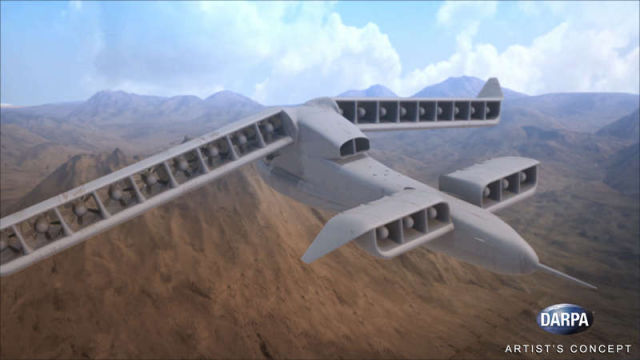 DARPA unveils its next VTOL X-Plane concept, with improvements in vertical and cruising flight.
The unorthodox VTOL X-Plane unmanned aircraft would push the limits of technology, to combine plane-like speed and helicopter-like agility into one breakthrough vehicle.
DARPA's Vertical Takeoff and Landing Experimental Plane (VTOL X-Plane) program seeks to provide innovative cross-pollination between fixed-wing and rotary-wing technologies and by developing and integrating novel subsystems to enable radical improvements in vertical and cruising flight capabilities. In an important step toward that goal, DARPA has awarded the Phase 2 contract for VTOL X-Plane to Aurora Flight Sciences.
"Just when we thought it had all been done before, the Aurora team found room for invention—truly new elements of engineering and technology that show enormous promise for demonstration on actual flight vehicles," said Ashish Bagai, DARPA program manager. "This is an extremely novel approach," Bagai said of the selected design. "It will be very challenging to demonstrate, but it has the potential to move the technology needle the farthest and provide some of the greatest spinoff opportunities for other vertical flight and aviation products."
VTOL X-Plane seeks to develop a technology demonstrator that could:
Achieve a top sustained flight speed of 300 kt to 400 kt
Raise aircraft hover efficiency from 60 percent to at least 75 percent
Present a more favorable cruise lift-to-drag ratio of at least 10, up from 5-6
Carry a useful load of at least 40 percent of the vehicle's projected gross weight of 10,000-12,000 pounds
source DARPA