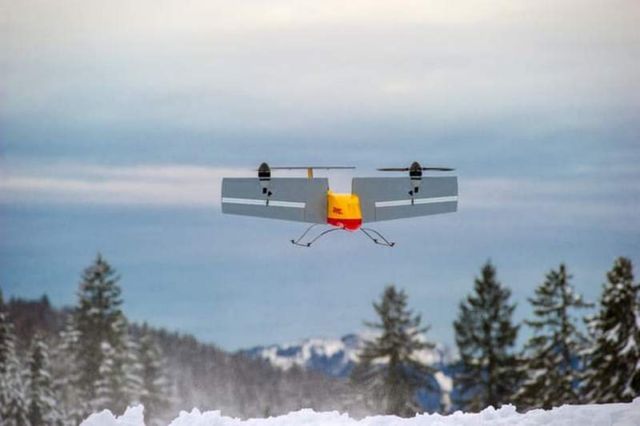 The DHL Parcelcopter 3.0 drone, can deliver small pack three times as fast as a car.
The DHL Parcelcopter 3.0 drone can take off and landing like a helicopter, in flight the wings pivot 90 degrees to fly like a plane.
Images credit DHL
The DHL new drone performed a series of flawless flights. Each round trip from valley to plateau at roughly 1,200 meters above sea level covered eight kilometers of flight. The drone's cargo was typically either sporting goods or urgently needed medicines and it arrived at the Alm station within just eight minutes of take-off. The same trip by car takes more than 30 minutes during winter.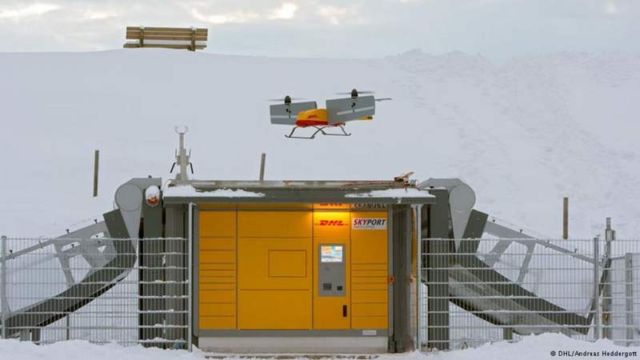 Jürgen Gerdes, Management Board Member for Post – eCommerce – Parcel at Deutsche Post DHL Group, said:
"We're the first worldwide who are able to offer a transport drone – Parcelcopter at DHL – for end-customer delivery. With this combination of fully automated loading and unloading as well as an increased transport load and range of our Parcelcopter we have achieved a level of technical and procedural maturity to eventually allow for field trials in urban areas as well."
source DHL