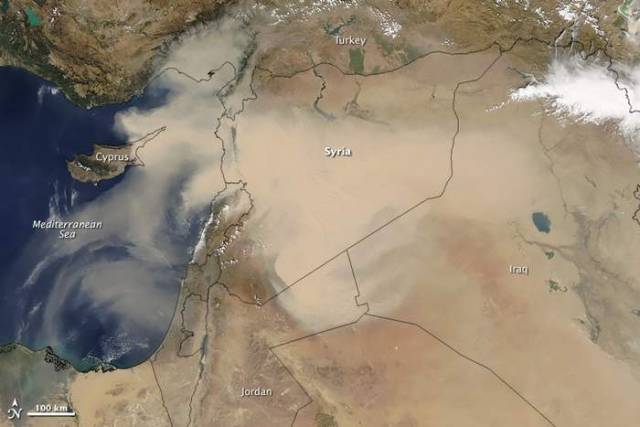 Major dust storm enveloping heavily populated areas in the Middle East and North Africa, captured by MODIS, in September 2015.
Dust first emerged in Moderate Resolution Imaging Spectroradiometer (MODIS) satellite imagery in Syria on September 6, 2015. By September 7 (top image), a thick plume swept across Syria, the Mafraq region of Jordan, and part of Turkey's Mediterranean coast. By September 8 (bottom image), dust had enveloped all of Lebanon, Israel, Jordan, Cyprus, and the Palestinian Territories. By September 9, it had moved southwest and spread over northeastern Egypt and the Gulf of Suez.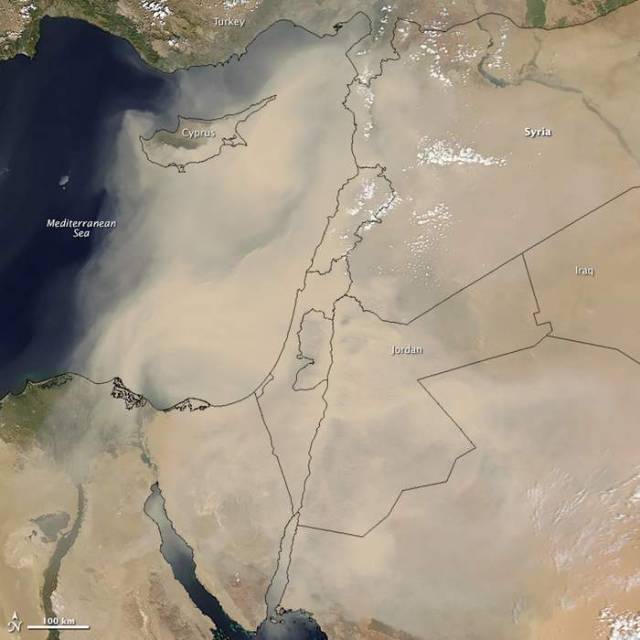 Thomas Gill, an atmospheric scientist at the University of Texas at El Paso, explained:
"Satellite instruments, particularly MODIS, have revolutionized the scientific community's ability to understand the spatial extent, transport pathways, and the source areas of dust storms. Largely because of MODIS, we now have a much better understanding of what specific kinds of landforms and landscapes are prone to initiate huge dust storms, which should lead to improved methods to forecast—and in some cases mitigate—such dust events."
NASA images by Jeff Schmaltz, LANCE/EOSDIS Rapid Response. Caption by Adam Voiland.
Read more at earthobservatory