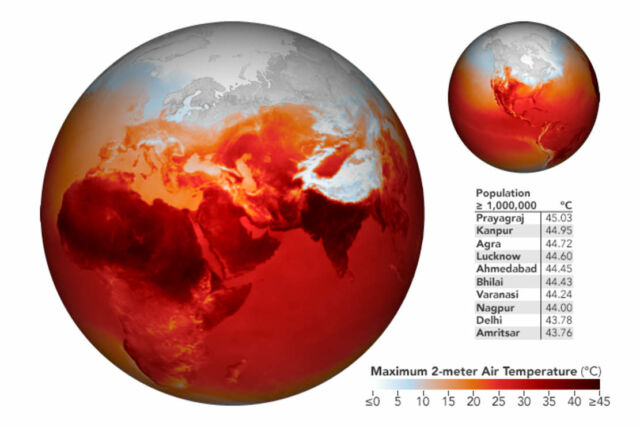 An intense heat wave in mid- and late April 2022 brought temperatures 4.5 to 8.5°C (8 to 15°F) above normal in east, central, and northwest India.
This just happened weeks after the country recorded its hottest March since the country' meteorological department began keeping records more than 120 years ago.
On April 27, 2022, the highest temperature in the country, 45.9°C (114.6°F), was recorded in Prayagraj in Uttar Pradesh. The day before, a high of 45.1°C (113.2°F) was reported at Barmer in West Rajasthan in the northwest, according to the India Meteorological Department. Many other localities recorded temperatures of 42-44°C (108-111°F).
The map above shows modeled air temperatures on April 27, 2022. It was derived from the Goddard Earth Observing System (GEOS) model, and represents air temperatures at 2 meters (about 6.5 feet) above the ground.
source earthobservatory.nasa