Estrema Fulminea is an Italian electric hypercar producing 2040 HP.
The innovative high-performance hybrid battery pack of the Estrema Fulminea, will reach unprecedented performances in terms of energy density and power output aiming to contain the total curb weight of Fulminea within kg 1.500 kg.

Fulminea comes with 4 electric motors, 320km/h in less than 10 seconds, and will be fully customizable in order to meet the tastes of the most demanding customers.

"As launch colour we have chosen a bright azure iridescent shade to match the dark pattern of carbon fiber, inspired by the wonderful shades of azurite crystals."

"In addition, thanks to the collaboration with Electra Vehicle, the BMS (Battery Management System) is supported by a software called "EVE-Ai" which constantly and actively optimizes the power demand between the two energy systems to maximize the efficiency and performance of the car by customizing the control strategy according to the operating environment, battery conditions and driving style."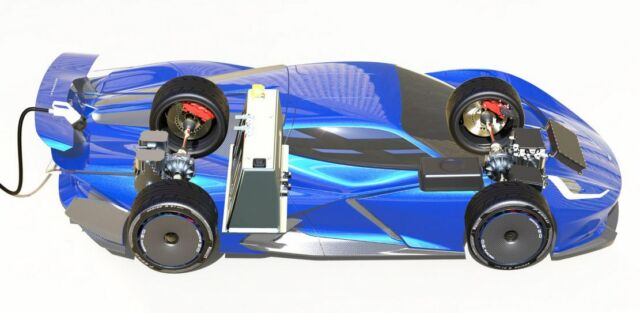 Pricing will start at €1,961,000 and there will be 61 cars made.
Images credit Estrema 
source Estrema