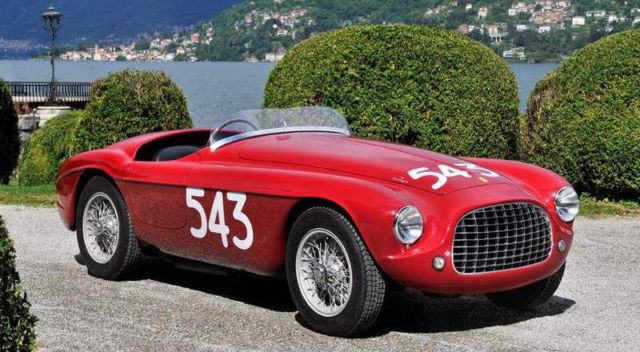 A spectacular early racing Ferrari 212 Barchetta, tops to an impressive final €6,720,000, at RM auction at Villa d'Este.
Images credit RM auction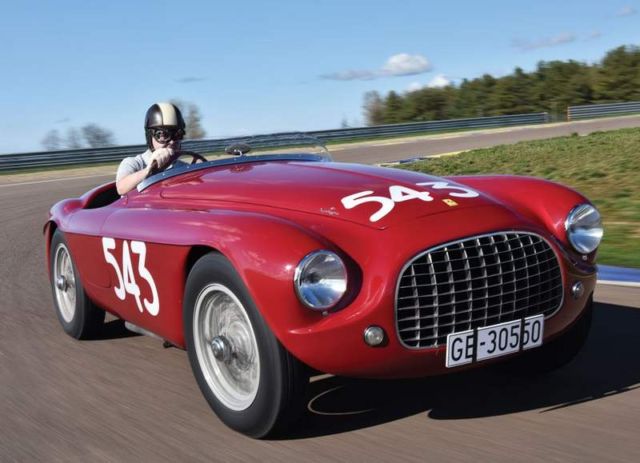 Press release:
HISTORIC FERRARI 212 EXPORT BARCHETTA BREAKS RECORD TO TOP RM SOTHEBY'S STUNNING LAKE COMO SALE
– RM Sotheby's generates €26.7 million at its exclusive Villa Erba sale during the Concorso d'Eleganza Villa d'Este weekend in Italy
– Ferrari 212 Export Barchetta brings €6.72 million to lead string of 10 individual million-euro-plus sales
– Full house of Ferrari hypercars attracts spirited bidding to reflect continued growing interest in modern-era supercars
– RM continues its European calendar on 7 September in central London
– Full results available online at www.rmauctions.com
LAKE COMO, Italy (24 May, 2015) – RM Sotheby's, the official auction house of the Concorso d'Eleganza Villa d'Este, continued its strong sales run in Italy last night, realizing a fantastic €26,714,530 in sales* ($29,920,273 USD) at its exclusive Villa Erba auction on the shores of Lake Como, Italy. Presenting spectacular cars in a spectacular setting, the evening sale saw 34 / 39 lots sold before a packed house, with numerous lively bidding contests erupting during the two-and-a-half hour sale.
The first European auction held by RM since it announced its strategic partnership with Sotheby's in February, the auction captured the attention of the global collector community with bidders hailing from 26 countries, including Russia, the United Arab Emirates, and Hong Kong; 27 percent of bidders represented first time clientele.
"We had another incredible collection of cars on offer at Villa Erba. It's always a stylish and well-attended sale; the setting, the atmosphere and the quality of vehicles we consistently consign to this auction make it a clear highlight of the European auction calendar," says Max Girardo, Managing Director RM Sotheby's Europe. "From the auction preview through until the end of the sale, the energy was fantastic and translated into some great prices. It's a great honour being the official auction house of the Concorso d'Eleganza Villa d'Este."
Proving that cars with exceptional history and unquestionable provenance continue to lead the market, top sales honors went to a historic 1952 Ferrari 212 Export Barchetta, chassis 0158ED. A spectacular early racing Ferrari, bidding on the Touring-bodied Barchetta opened at €3 million before quickly climbing to an impressive final €6,720,000, smashing the previous auction record for the model. It led a string of 10 individual million-euro-plus sales recorded during the course of the evening, each celebrated with a round of enthusiastic applause from the audience.
Girardo adds, "The Ferrari 212 Export embodies the kind of quality we aim to bring to our sales and its world record-breaking price demonstrates the enduring strength of the auction market."
The sale also underlined the continuing rise of the 'modern era' supercars with an incredible 'full house' of ultimate Ferraris selling very strongly and each achieving seven figures. It is rare to be able to offer all the classic Ferrari hypercars in one auction, so the collection garnered significant interest and highly spirited bidding. Highlighting the group was a 1985 Ferrari 288 GTO, the spiritual successor to the 250 GTO, which sold for an exceptional €1,904,000, while the 1991 F40, one of the most celebrated high-performance supercars ever built, sold for €1,008,000. The group also included a 1996 F50 for €1,232,000 and a 2002 Enzo for €1,260,000. Proving that it's not just Ferraris that collectors queue up to buy, the car which many regard as the world's first true 'supercar', the 1971 Lamborghini Miura P400 S, also attracted significant interest, garnering a strong €1,019,200.
Among other notable sales:
· a stunning 1949 Alfa Romeo 6C 2500 SS Villa d'Este Coupe, the epitome of sporting elegance and perfectly matched to the Villa d'Este weekend, sold for an above-estimate €784,000;
· a striking 'pistachio green', Ferrari-powered 1974 Lancia Stratos HF Stradale, the first automobile purposely built for competition in the World Rally Championship, realized a strong €431,200;
· a two-owner 2007 Ferrari 599 GTB HGTE, confirmed its status as a certain future collectible, exceeding estimate at €358,400;
· a 1959 Riva Florida "Nounours", delivered new to screen siren Brigitte Bardot, also exceeded expectations at €146,250; and,
· the generously donated BMW K1 motorcycle, which sold with 100 percent of all proceeds benefiting Caritas International in support of earthquake relief in Nepal, found a new home for €10,530, at least double its market value.
RM Sotheby's Villa Erba Million-Euro Sales:
Lot 110 – 1952 Ferrari 212 Export Barchetta – €6,720,000
Lot 120 – 1963 Ferrari 250 GT/L Berlinetta 'Lusso' – €2,016,000
Lot 105 – 1985 Ferrari 288 GTO – €1,904,000
Lot 133 – 1960 Ferrari 250 GT Cabriolet Series II – €1,568,000
Lot 107 – 2002 Ferrari Enzo – €1,260,000
Lot 108 – 1996 Ferrari F50 – €1,232,000
Lot 132 – 1953 Fiat 8V Cabriolet – €1,120,000
Lot 129 – 1971 Lamborghini Miura P400 S – €1,019,200
Lot 106 – 1991 Ferrari F40 – €1,008,000
Lot 112 – 1973 Porsche 911 Carrera RS 2.7 Sport Lightweight €1,008,000
source RM auctions