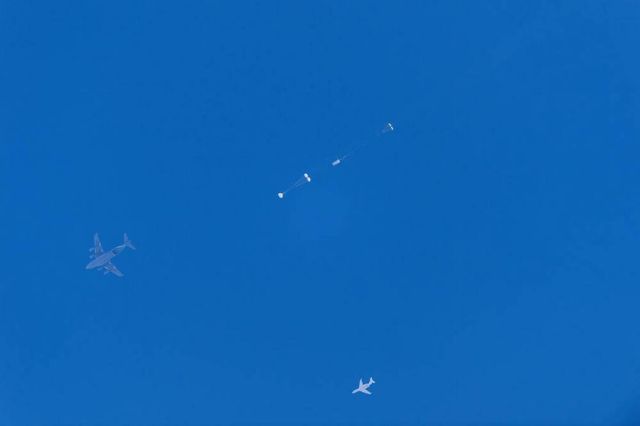 Like ghostly apparitions against a patch of blue, a C-17 aircraft and a mock Orion spacecraft are seen in the sky over Yuma, Arizona.
The mock Orion was pulled out from the aircraft's cargo bay, on Wednesday, Sept. 13, 2018, to perform a test of the spacecraft's parachute system. This final test qualified the parachute system for flights with astronauts, checking off an important milestone on the path to send humans on missions to the Moon and beyond.
Over the course of eight tests at the U.S. Army's Yuma Proving Ground in Arizona, engineers have evaluated the performance of Orion's parachute system during normal landing sequences as well as several failure scenarios and a variety of potential aerodynamic conditions to ensure astronauts can return safely from deep space missions.
Image Credit: US Army
Editor: Yvette Smith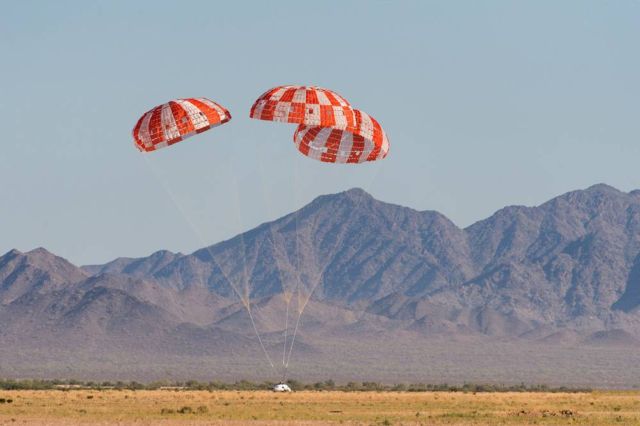 An Orion test capsule with its three main parachutes touches down in the Arizona desert.  Credit NASA
source NASA