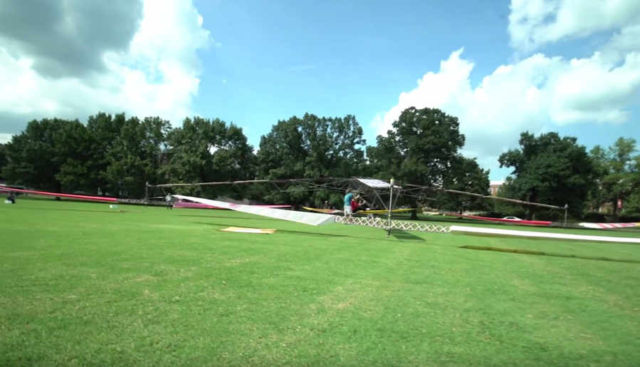 Witness aviation history being made, the first successful flight of an entirely solar-powered helicopter…
A University of Maryland student team has once again achieved new aviation heights, this time by successfully lifting a helicopter and passenger through the sole use of solar power.
After successfully completing the longest duration flight for a human-powered helicopter in fall of 2013, the UMD Gamera Team (link is external), a student team originally inspired in 2012 by the American Helicopter Society's Sikorsky Prize, has continued raising the bar. In 2014, a new group of undergraduate students took over Team Gamera, reinventing itself as Solar
Gamera to test the feasibility of applying solar power in achieving human helicopter flight.
"Today you are seeing the first successful flights of the Gamera Solar-Powered Helicopter," said Ph.D. student William Staruk, who assisted with the flight and was a member of Gamera's Human-Powered Helicopter Team. "You are seeing aviation history being made in the history of green aviation and rotary blade aviation."