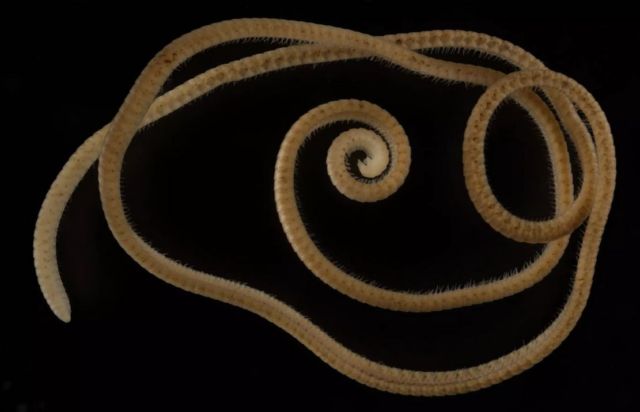 New species Eumillipes persephone, is first "true" millipede which has up to 1,306 legs, the most of any known animal.
Most millipedes, despite their name meaning "thousand feet," they only have over 600 legs on average at most.
The name "millipede" translates to a thousand feet (from mille "thousand" and pes "foot"). However, no millipede has ever been described with more than 750 legs.
"We discovered a new record-setting species of millipede with 1,306 legs."
Above: The first true millipede with 1,306 legs.  Credit Paul E. Marek, Bruno A. Buzatto, William A. Shear, Jackson C. Means, Dennis G. Black, Mark S. Harvey, Juanita Rodriguez, Scientific Reports
Discovered 60 m below ground in a drill hole created for mineral exploration, E. persephone possesses troglomorphic features; it lacks eyes and pigmentation, and it has a greatly elongated body—features that stand in stark contrast to its closest surface-dwelling relatives in Australia and all other members of its order.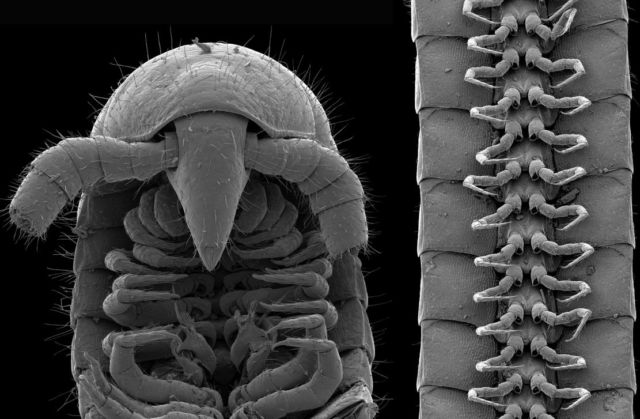 Microscope close-up of a Eumillipes persephone.  Credit Paul E. Marek, Bruno A. Buzatto, William A. Shear, Jackson C. Means, Dennis G. Black, Mark S. Harvey, Juanita Rodriguez, Scientific Reports
"Using phylogenomics, we found that super-elongation (> 180 segments) evolved repeatedly in the millipede class Diplopoda."
Published in the journal Scientific Reports