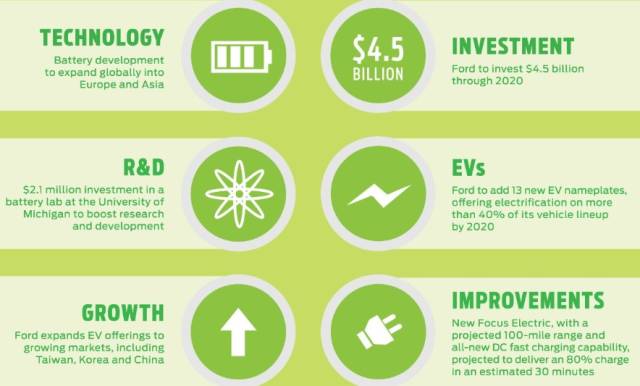 Ford will invest $4.5 Billion in electric vehicles by 2020, reimagining how to create future vehicle user experiences.
Ford is investing $4.5 billion in electric vehicle solutions by 2020, including the new Focus Electric with all-new DC fast-charge capability, delivering 80 percent charge in approx 30 minutes and more 100-mile range.
The company is will add 13 new EV by 2020 and more than 40 percent of Ford's models globally will be electrified by the decade's end.
Ford also is reimagining how to set itself apart in the marketplace by focusing on the customer experience and not just the vehicle itself. The company is changing its product development process to support the shift.
Raj Nair, executive vice president, Product Development, said:
"The challenge going forward isn't who provides the most technology in a vehicle but who best organizes that technology in a way that most excites and delights people. By observing consumers, we can better understand which features and strengths users truly use and value and create even better experiences for them going forward."
source Ford