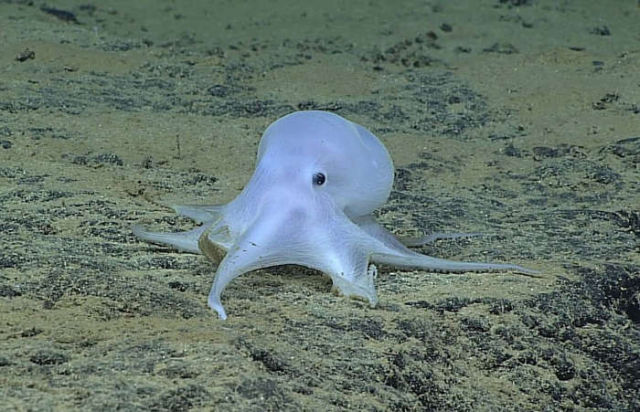 This ghostlike octopus discovered by Okeanos Explorer, almost 4,290 meters down into the ocean, northeast of Hawaii's Necker Island.    Watch the video…
The first operational dive of Okeanos Explorer's 2016 season, on February 27, explored depths of over 4,000 meters northeast of Necker Island (Mokumanamana) in the Hawaiian Archipelago. The dive was planned to obtain baseline information on whether a connection exists between Necker Island and Necker Ridge, a narrow feature that extends over 400 miles and protrudes past the current exclusive economic zone (EEZ) of the United States.





As the ROV was traversing a flat area of rock interspersed with sediment at 4,290 meters, it came across a remarkable little octopod sitting on a flat rock dusted with a light coat of sediment. The appearance of this animal was unlike any published records and was the deepest observation ever for this type of cephalopod.
Image courtesy of NOAA Office of Ocean Exploration and Research, Hohonu Moana 2016.
source oceanexplorer.noaa