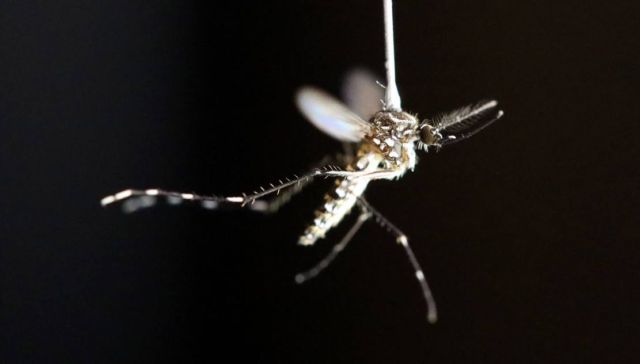 Scientists discover how the mosquito brain integrates diverse sensory cues to find us.
For female mosquitoes, finding their next meal is all about smelling and seeing.
A team of scientists, led by researchers at the University of Washington, has discovered how the female mosquito brain integrates signals from two of its sensory systems — visual and olfactory — to identify, track and hone in on a potential host for her next blood meal.
Their findings, published July 18 in the journal Current Biology, indicate that, when the mosquito's olfactory system detects certain chemical cues, they trigger changes in the mosquito brain that initiate a behavioral response: The mosquito begins to use her visual system to scan her surroundings for specific types of shapes and fly toward them, presumably associating those shapes with potential hosts.
Only female mosquitoes feed on blood, and these results give scientists a much-needed glimpse of the sensory-integration process that the mosquito brain uses to locate a host. Scientists can use these findings to help develop new methods for mosquito control and reduce the spread of mosquito-borne diseases.
This study focused on the olfactory cue that triggers the hunt for a host: carbon dioxide, or CO2. For mosquitoes, smelling CO2 is a telltale sign that a potential meal is nearby.
"Our breath is just loaded with CO2," said corresponding author Jeffrey Riffell, a UW professor of biology. "It's a long-range attractant, which mosquitoes use to locate a potential host that could be more than 100 feet away."
That potential host could be a person or another warm-blooded animal. Prior research by Riffell and his collaborators has shown that smelling CO2 can "prime" the mosquito's visual system to hunt for a host. In this new research, they measure how CO2 triggers precise changes in mosquito flight behavior and visualize how the mosquito brain responds to combinations of olfactory and visual cues.
The team collected data from approximately 250 individual mosquitoes during behavioral trials conducted in a small circular arena, about 7 inches in diameter. A 360-degree LED display framed the arena and a tungsten wire tether in the middle held each mosquito. An optical sensor below the insect collected data about mosquito wingbeats, an air inlet and vacuum line streamed odors into the arena, and the LED display showed different types of visual stimuli.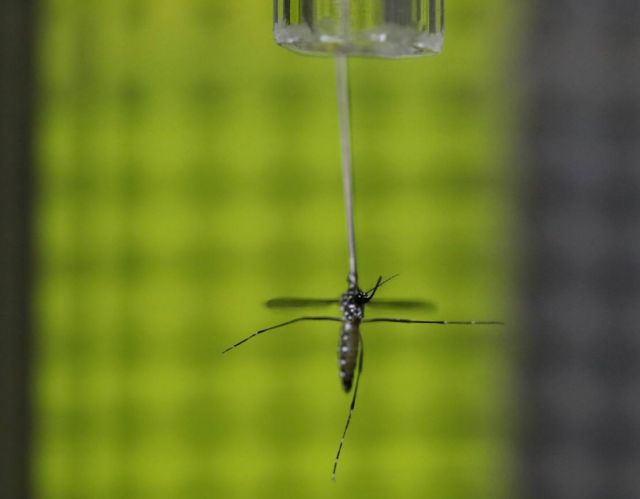 A tethered Aedes aegypti mosquito flying in the arena.  Image credit Kiley Riffell
source University of Washington