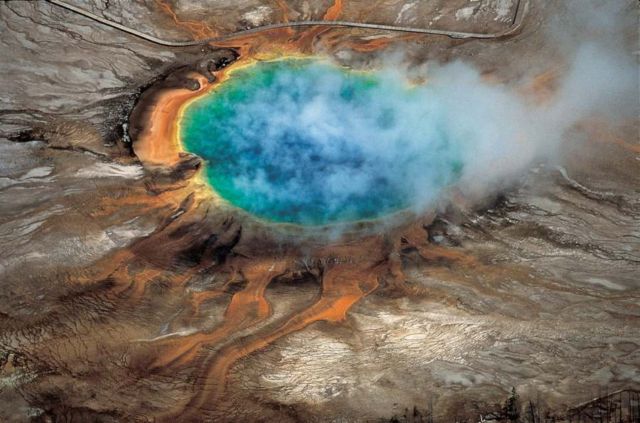 Scientists find huge reservoir of hot magma beneath Yellowstone National park, that could fill the Grand Canyon 11 times!
Images credit University of Utah
Researchers from the University of Utah, using seismic readings they map what is beneath Yellowstone: A hot magma reservoir beneath the National park's supervolcano measuring 11,035 cubic miles (46,000 cubic km).
The study states it is not posing any additional threat than it was before
According to the University of Utah: seismologists discovered and made images of a reservoir of hot, partly molten rock 12 to 28 miles beneath the Yellowstone supervolcano, and it is 4.4 times larger than the shallower, long-known magma chamber.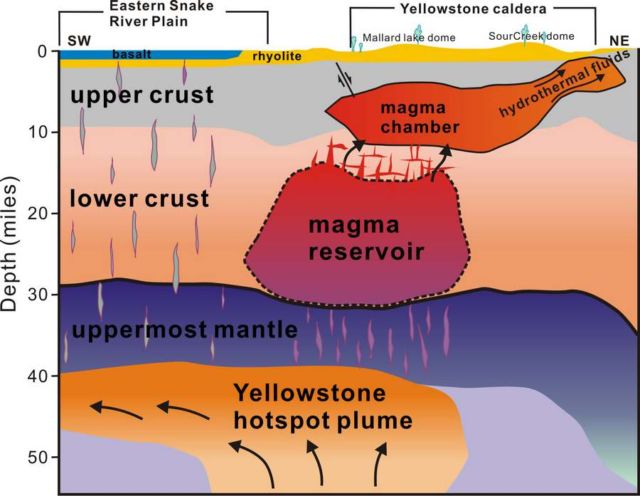 The hot rock in the newly discovered, deeper magma reservoir would fill the 1,000-cubic-mile Grand Canyon 11.2 times, while the previously known magma chamber would fill the Grand Canyon 2.5 times, says postdoctoral researcher Jamie Farrell, a co-author of the study published online today in the journal Science.




First author Hsin-Hua Huang, also a postdoctoral researcher in geology and geophysics, said:
"For the first time, we have imaged the continuous volcanic plumbing system under Yellowstone. That includes the upper crustal magma chamber we have seen previously plus a lower crustal magma reservoir that has never been imaged before and that connects the upper chamber to the Yellowstone hotspot plume below."
Contrary to popular perception, the magma chamber and magma reservoir are not full of molten rock. Instead, the rock is hot, mostly solid and spongelike, with pockets of molten rock within it. Huang says the new study indicates the upper magma chamber averages about 9 percent molten rock – consistent with earlier estimates of 5 percent to 15 percent melt – and the lower magma reservoir is about 2 percent melt.
Study co-author Fan-Chi Lin, an assistant professor of geology and geophysics, says:
"It gives us a better understanding the Yellowstone magmatic system. We can now use these new models to better estimate the potential seismic and volcanic hazards."
The researchers point out that the previously known upper magma chamber was the immediate source of three cataclysmic eruptions of the Yellowstone caldera 2 million, 1.2 million and 640,000 years ago, and that isn't changed by discovery of the underlying magma reservoir that supplies the magma chamber.
"The actual hazard is the same, but now we have a much better understanding of the complete crustal magma system," says study co-author Robert B. Smith, a research and emeritus professor of geology and geophysics at the University of Utah.
The three supervolcano eruptions at Yellowstone – on the Wyoming-Idaho-Montana border – covered much of North America in volcanic ash. A supervolcano eruption today would be cataclysmic, but Smith says the annual chance is 1 in 700,000.
via CNN
source University of Utah