Hyperloop One announces completion of tube installation at Las Vegas DevLoop.
Hyperloop One has been 'finalized' ahead of testing, world's first full-system test track at Las Vegas.
With Hyperloop One, passengers and cargo are loaded into a pod, and accelerate gradually via electric propulsion through a low-pressure tube. The pod quickly lifts above the track using magnetic levitation and glides at airline speeds for long distances due to ultra-low aerodynamic drag. This week, the company finalized the tube installation on its 1640-foot-long DevLoop, located in the desert outside of Las Vegas; the facility serves as an outdoor lab for its proprietary levitation, propulsion, vacuum and control technologies.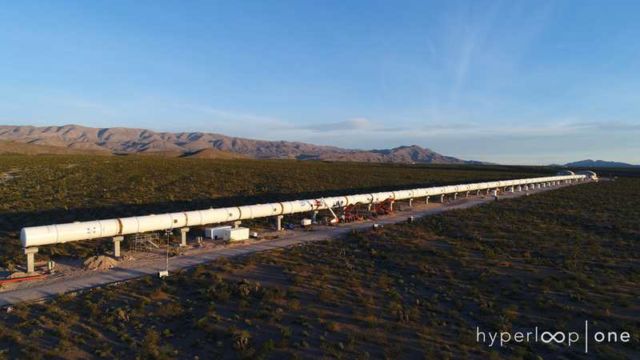 "Hyperloop One is the only company in the world building an operational commercial Hyperloop system," said Rob Lloyd, chief executive officer of Hyperloop One. "This disruptive technology – conceived, developed and built in the U.S. – will move passengers and cargo faster, cleaner and more efficiently. It will transform transportation as we know it and create a more connected world."
Of more than 2,600 participants in the Hyperloop One Global Challenge, 11 teams presented routes, linking 35 cities and covering more than 2,800 miles. They join 24 other teams from around the globe, each vying to be among 12 finalists. Three eventual winners will work closely with Hyperloop One engineering and business development teams to explore project development and financing.
Images credit Hyperloop One
source Hyperloop One