21 different types of 130-million-year-old dinosaur footprints have been discovered on  the "Australia's Jurassic Park."
The unprecedented dinosaur tracks found on the 25-kilometre stretch of the Dampier Peninsula coastline in Kimberley region of Western Australia.
Above, Goolarabooloo Maja Richard Hunter alongside the pedal impression.   Credit Salisbury et al, Journal of Vertebrate Paleontology
A team of palaeontologists from The University of Queensland's School of Biological Sciences and James Cook University's School of Earth and Environmental Sciences braved sharks, unveiled the most diverse assemblage of dinosaur tracks in the world in 127 to 140 million-year-old rocks.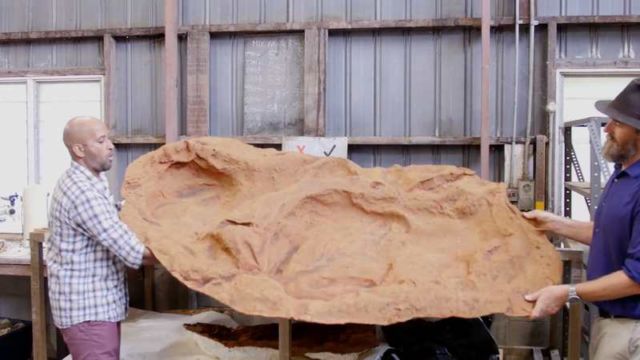 The researchers made casts of the prints, so they could be studied later on.   Credit The University of Queensland/Vimeo
Lead author Dr Steve Salisbury said the diversity of the tracks around Walmadany (James Price Point) was globally unparalleled and made the area the "Cretaceous equivalent of the Serengeti".
He said:
"It is extremely significant, forming the primary record of non-avian dinosaurs in the western half the continent and providing the only glimpse of Australia's dinosaur fauna during the first half of the Early Cretaceous Period.
It's such a magical place—Australia's own Jurassic Park, in a spectacular wilderness setting."
Lead author Dr Steve Salisbury of The University of Queensland School of Biological Sciences discusses the diversity of tracks around Walmadany in Western Australia.
via newatlas
source The University of Queensland